There are some brilliant bird photographers on Instagram in 2022 and those featured here in this article are no exception. These are not necessarily famous bird photographers but they are good at what they do and their photography is amazing. You can check out their profiles by clicking on their name in the list.
At the end of the post, I'm going to give you some handy tips on how to find even more great bird photography on Instagram.
Enfoconatural is the profile of Leo Retamal Friz, a wildlife photographer from Santiago in Chile. On Leo's profile, you will find some incredible bird photography, including some brilliantly captured birds in flight.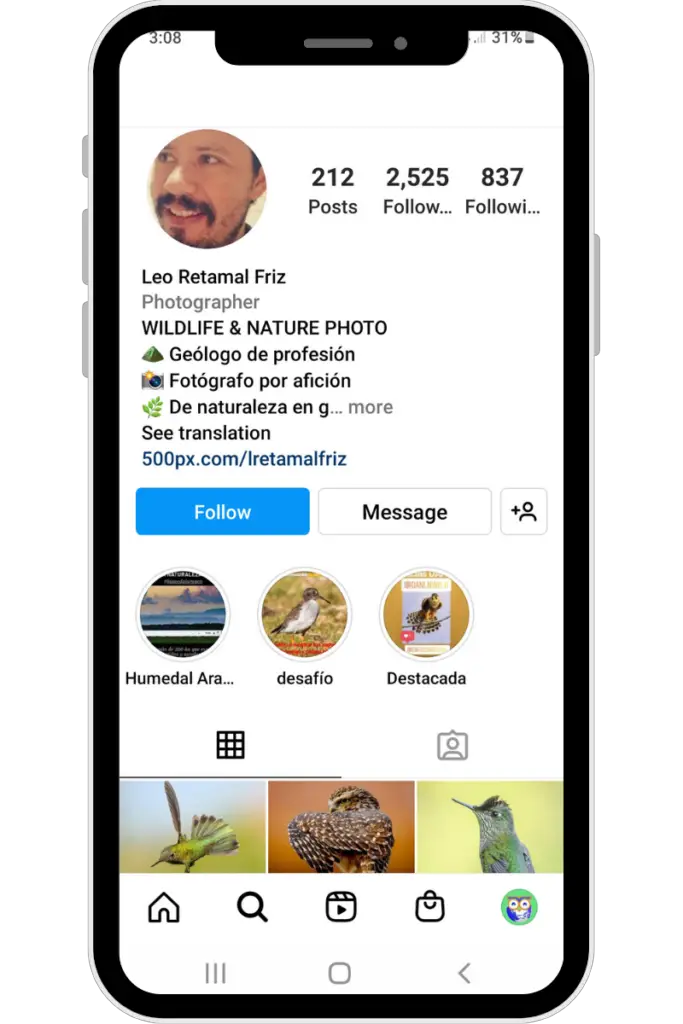 Some of the species Leo photographs include:
Hummingbirds
Condors
Peregrine Falcons
Black Skimmers
Burrowing Owls
White-backed Stilts
and more…
Visit @enfoconatural on Instagram now. Please support him by Following, Liking, and Commenting.
Are you wondering why all your bird photos are blurry? Find out why in this post here on my blog.
This profile is worth a visit for the name alone! It belongs to a photographer called Seth Barr who is based in New York but who, as his website suggests, "shoots anywhere."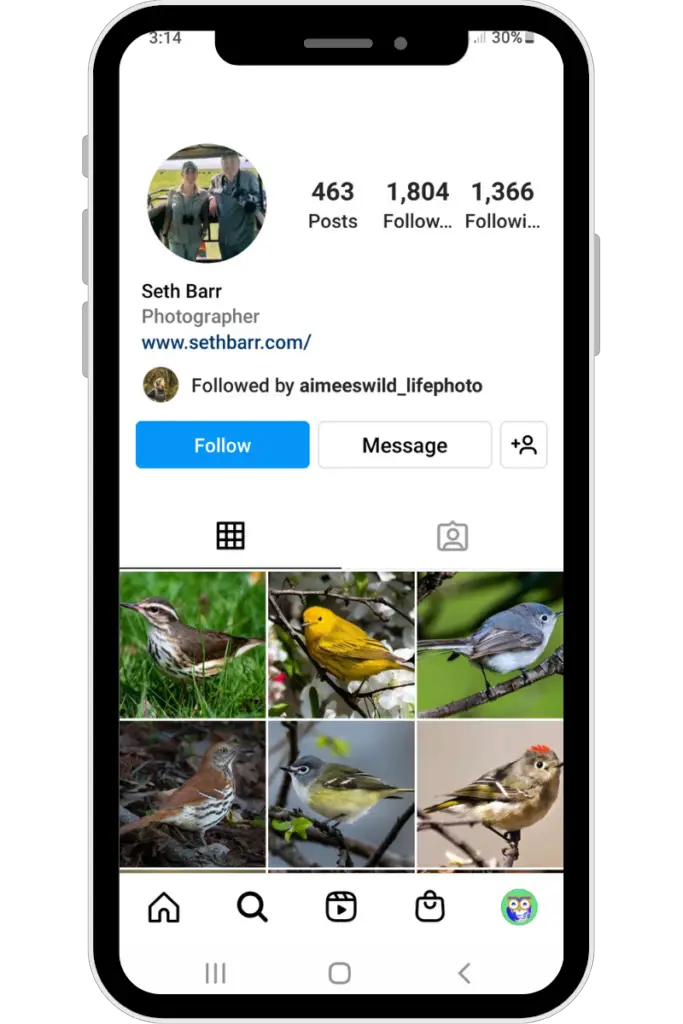 Seth's profile is packed with wonderful images of various American songbirds, such as Cedar Waxwings, White-throated Sparrows, Yellow-rumped Warblers, Tufted Titmice, and more.
Visit his profile and be sure to give him a Follow and Like and comment on his images.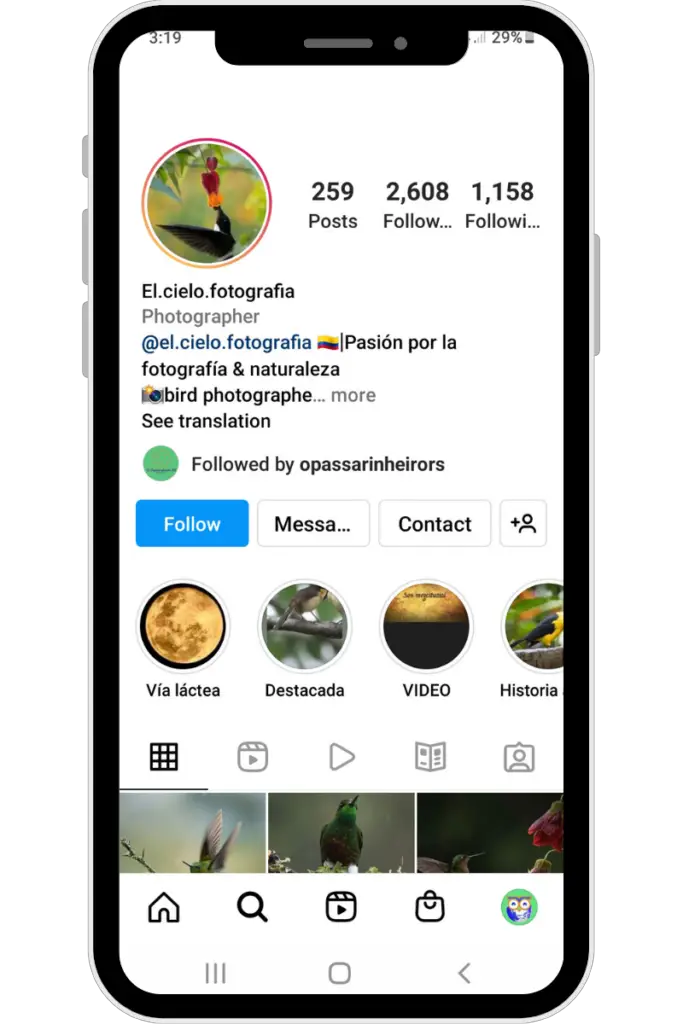 This bird photography Instagram profile is a must-see for lovers of Hummingbirds. You will be rewarded with much more than just amazing images of hummingbirds though; there are photos of many other species, including Little Blue Herrons, Liberated Woodpeckers, Hoatzin, and more…
The photographs on this profile are skillfully captured with deliciously blurry backgrounds and super-sharp subjects. Visit @el.cielo.fotografia now.
Find out what focus mode to use for great bird photography in this article.
Villen Luontokuvat is the owner of this Instagram profile. He is based in Tampere, Finland, and fills his feed with stunning images of Great Grey Owls, Kestrels, Northern Goshawks, and many more.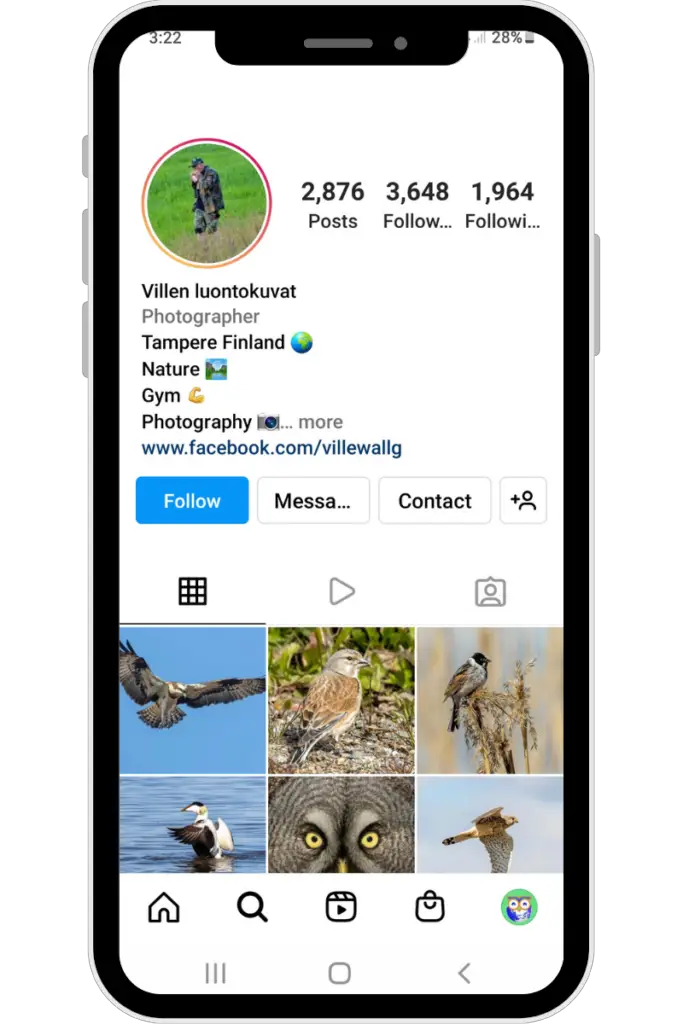 Villen's feed is colorful and packed with images of birds in their natural habitat, showing their natural behavior which is how I like my bird photography.
Visit @villewallg on Instagram right now and be sure to Follow, Like, and Comment.
Andy Raupp is a birder and wildlife photographer from Illinois, Wisconsin and his Instagram profile is nothing short of stunning. Andy has a great eye for photography and frames his images well.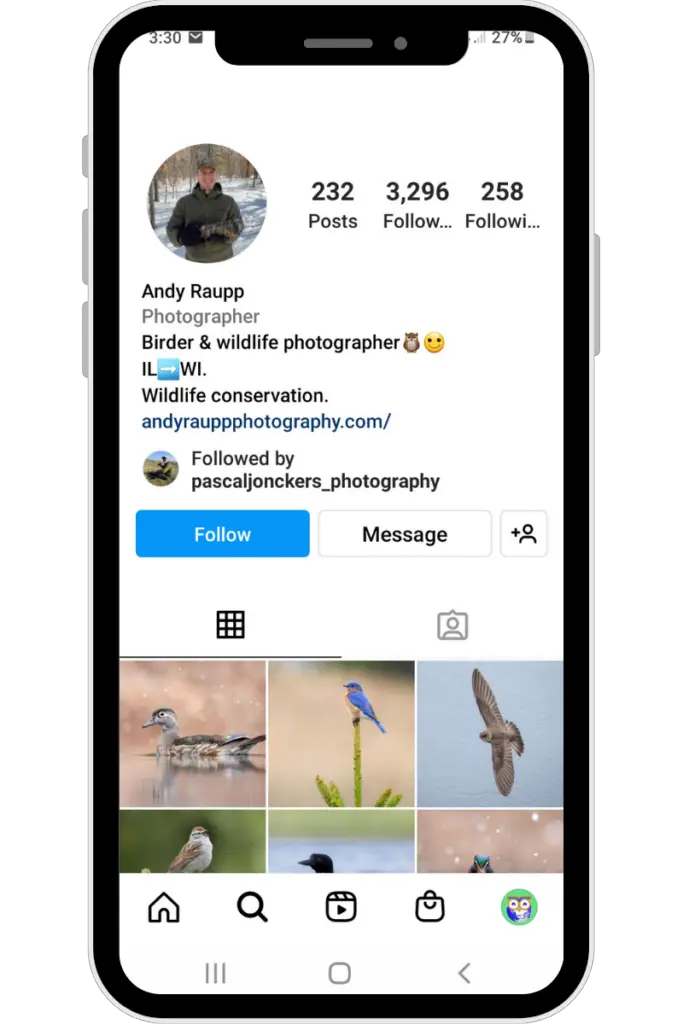 On this profile, you will see images of many North American species, including Northern Cardinals, Cedar Waxwings, Wood Ducks, Golden-crowned Kinglets and so much more. Andy also uses camera traps to get fabulous images of Bobcats on his property.
Visit his profile @andy_raupp now, you won't be disappointed. Please support his work by Following, Liking, Commenting, and sharing it with your fellow bird photography lovers.
Should you use a tripod for bird photography? The answer is right here in this blog post.
Jose Villa Venegas is a nature photographer from Costa Rica. His Instagram profile is scattered with amazing shots of some of the most beautiful bird species Central America has to offer.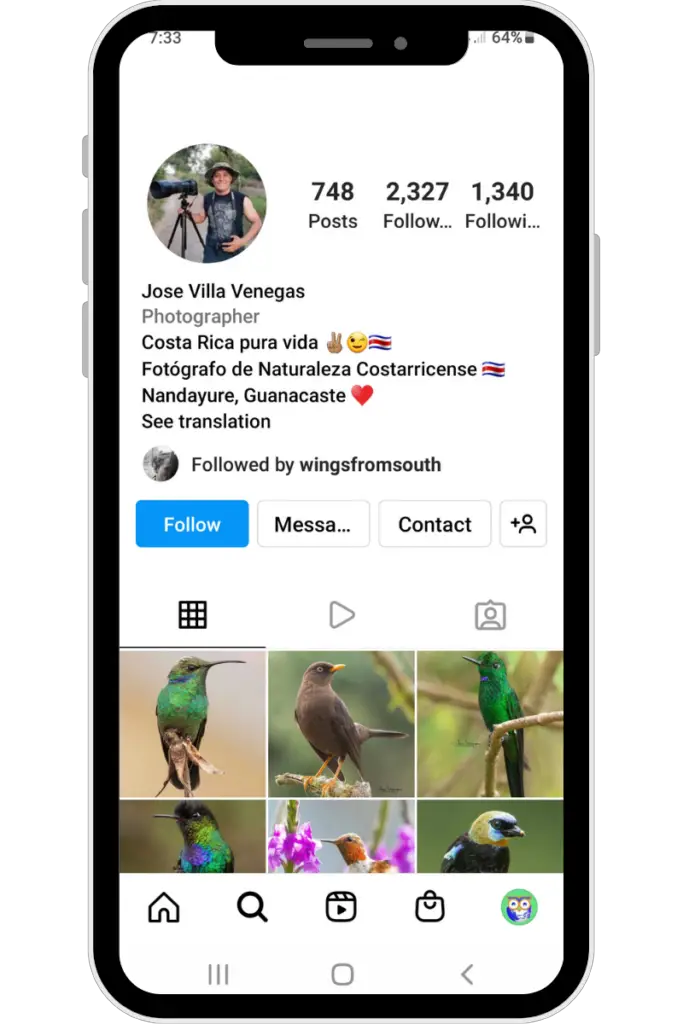 Jose's photos are very professional and stunning to look at. From hummingbirds to vultures, you'll find it all on this bird photography Instagram feed.
Visit @jose_venegas_photography on Instagram right now and be sure to Follow, Like, and Comment.
Julia Avilés is a Chilean photographer with a skilled eye for bird photography and nature photography in general.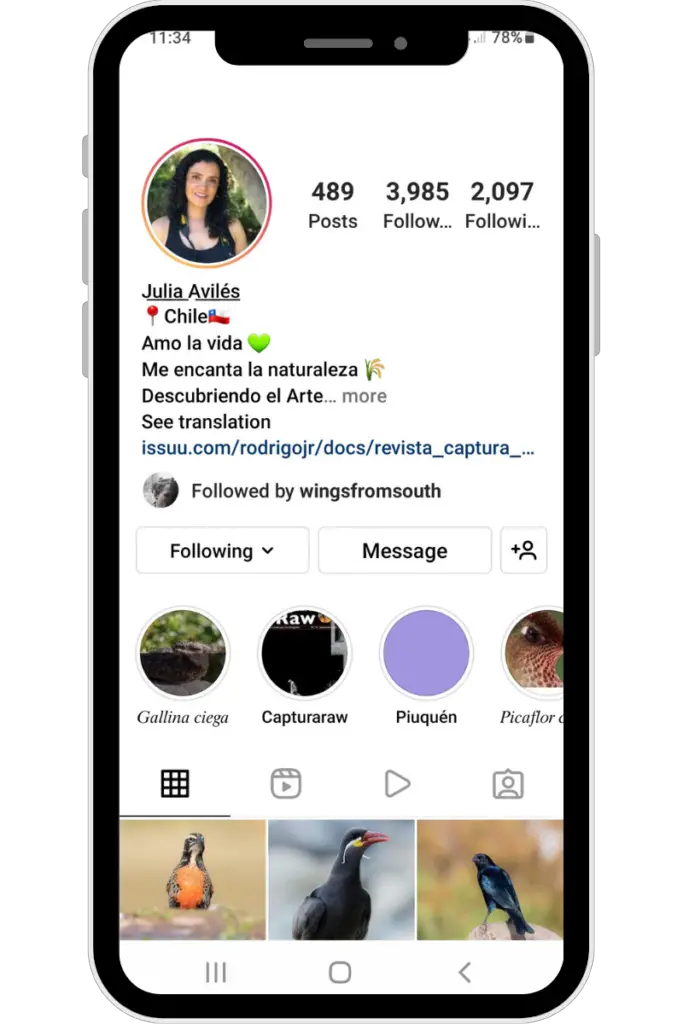 Her Instagram feed is packed with wonderful images of hummingbirds, Inca terns, burrowing owls and so much more. It's not just bird photography you'll find on her feed either, there is some great astrophotography and macro shots as well.
Below is just one example of her amazing hummingbird shots:
Visit @julia.aviles.m on Instagram right now and be sure to Follow, Like, and Comment.
Are you making any of these 9 bird photography camera settings mistakes that beginners make? Click here to find out.
Sambath Subbaiah is an award-winning wildlife photographer based in Chennai Tamil Nadu, India. His Instagram feed includes image after image that proves why he is the recipient of such awards as the NHM wildlife photographer of the year in 2020.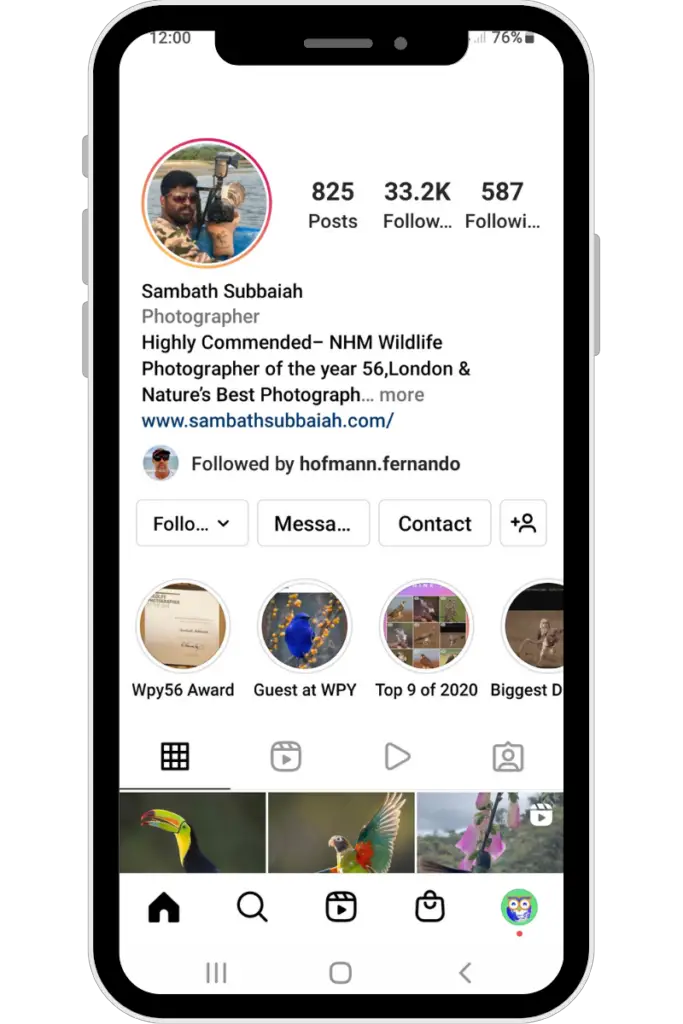 On Sambath's profile, you'll find images of Srilankan frogmouths, the stunning northern lapwing, various ducks, and more, including this brilliant image of a Red-necked Falcon:
Visit his @sambathsubbaiah profile today and be sure to Follow, Like, and Comment.
I have followed this UK photographer for a while now. Lee O'Dwyer's feed is a treat to look at, with most photos involving birds with wings open, sometimes in mid-air conflict with each other. You have to see this guy's profile.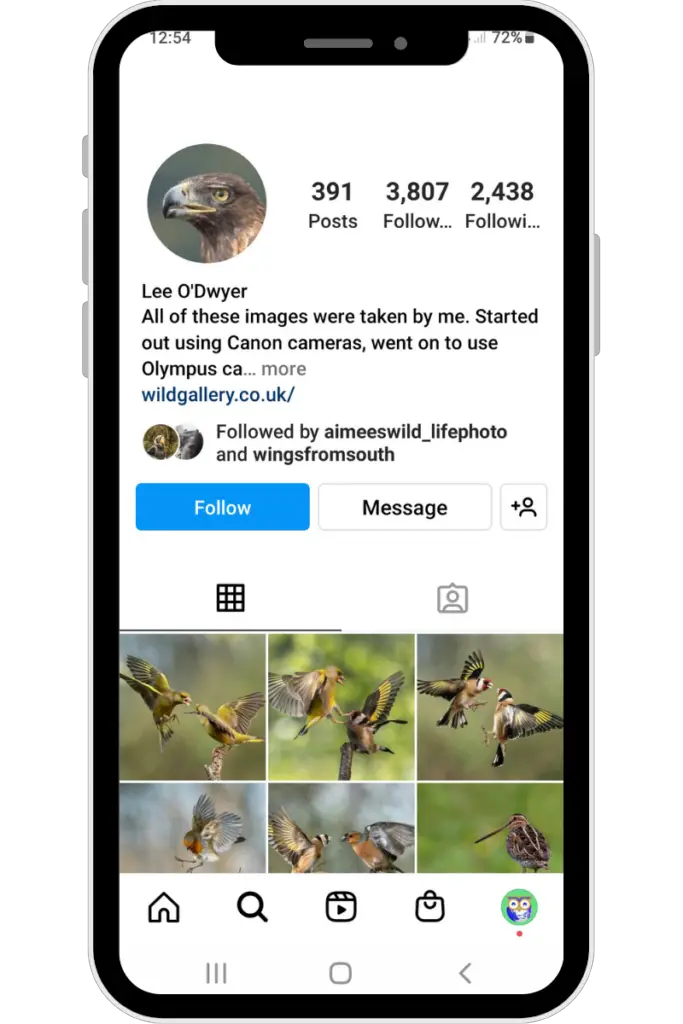 As you can see from just the first 3 photos on Lee's feed, he is adept at capturing species such as greenfinches and goldfinches in aerial battles.
Check out @leeodwyer54 on Instagram today and be sure to Follow, Like, and Comment to let this fabulous photographer what you think of his work.
It would be remiss of me not to mention the Birdwatch World Instagram account here in this post. If you have not followed it yet, please go there now and do so.
I share many beautiful bird photos from photographers all over the world and link out to blog posts here on the site.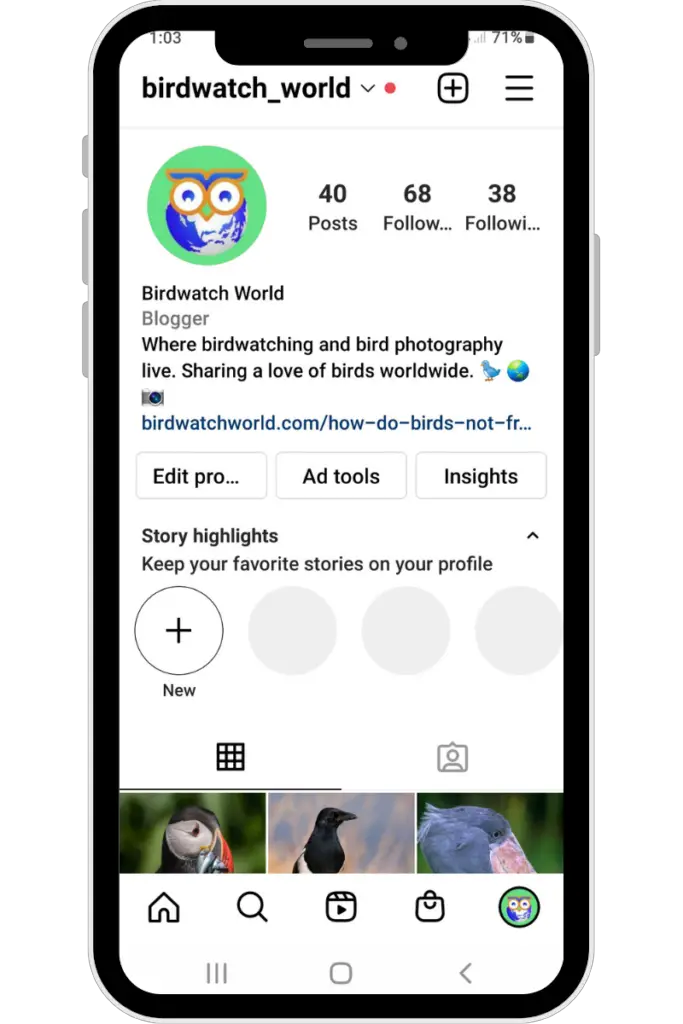 A lot of times, the images I post to the Birdwatch World Instagram profile relate to the current article that is featured on the site. Sometimes, I simply post a bird photograph because I like it. The profile is just a baby right now and doesn't have many followers but it is growing fast.
Visit the @birdwatch_world Instagram page now and one day, it could be your photograph featured in the feed.
See more great bird photography in this article about cute Australian birds.
Hints For Finding Great Bird Photography On Instagram
This section of the article is for those who may not be all that well-versed on Instagram. It's easy to click any of the links in this post and follow any photographers you might like but how do you go about finding more bird photography?
Instagram will suggest other profiles that you might enjoy, based on the images you like. These will appear in your feed in one of two ways: 'suggested for you' galleries or suggested posts.
Suggested For You Gallery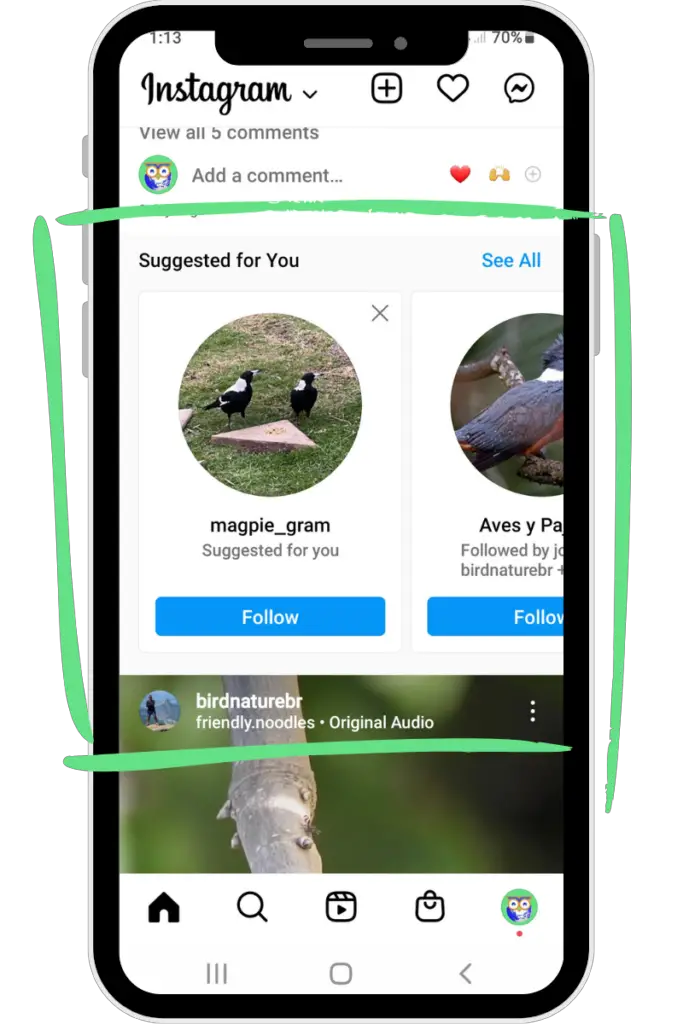 In the image above you can see a Suggested for You gallery. This is Instagram suggesting various profiles you might like to follow based on what you have been interacting with in the app.
You can swipe right to view more profiles and simply click on Follow if you like the look of any. To view any of the profiles before following, simply click on the picture or the name of the account.
Suggested Posts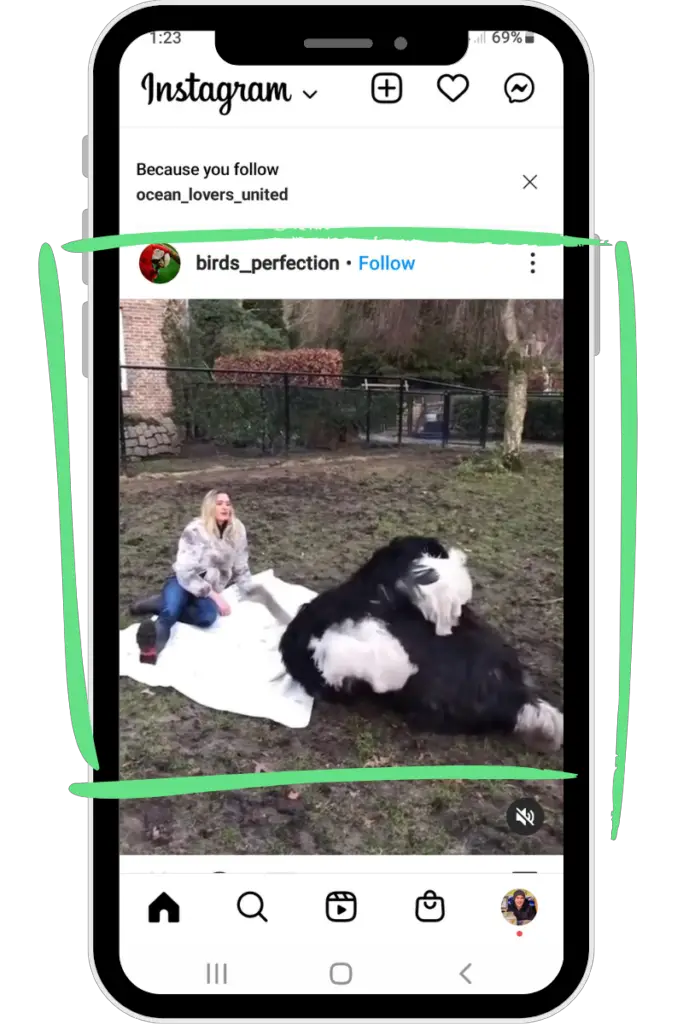 Suggested posts appear in your feed just like the posts of profiles you already follow. The only differences are that they have the blue Follow text next to the profile name and they have the "because you follow…" text above them.
Just like the suggested galleries, you can simply click Follow if you think you will like that person's content, or you can click their profile picture or their name to view their profile.
You can also snooze suggested posts or turn them off by clicking on the x next to the text above the post. They do tend to pop up quite often, so I will snooze them for 30 days occasionally while I get used to the posts from people I have recently followed.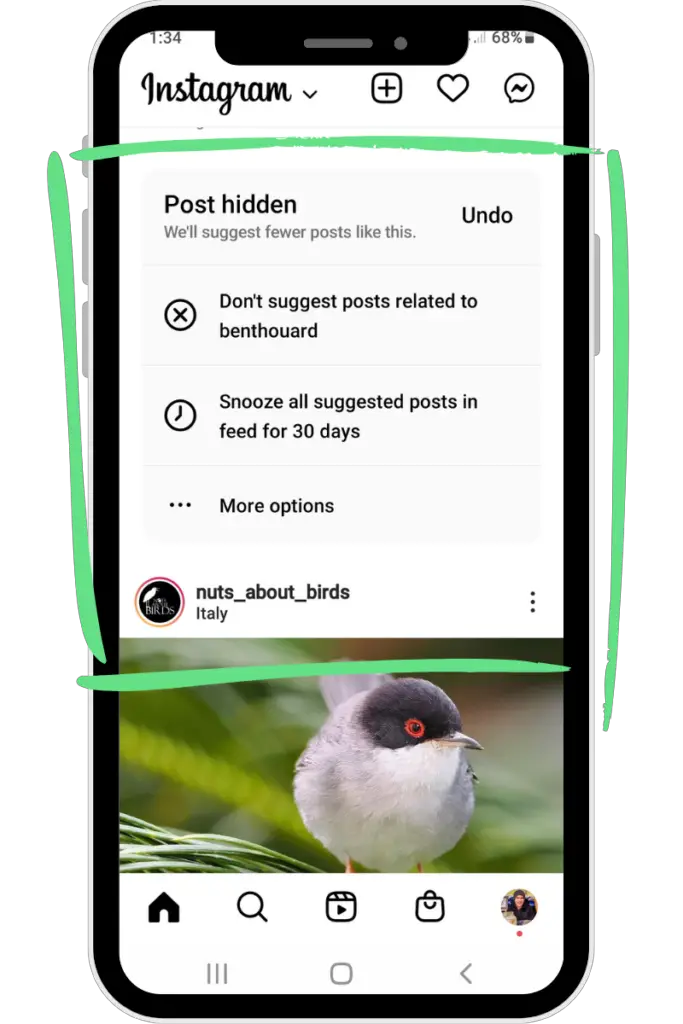 Search For Hashtags
Hashtags are like the magic portals of Instagram. Using hashtags in your posts can help others to find your content and can also help you to find theirs.
You can do searches for specific hashtags such as #birdphotography to find more great images to look at. Clicking on the magnifying glass icon at the bottom of the home screen will bring up the search box.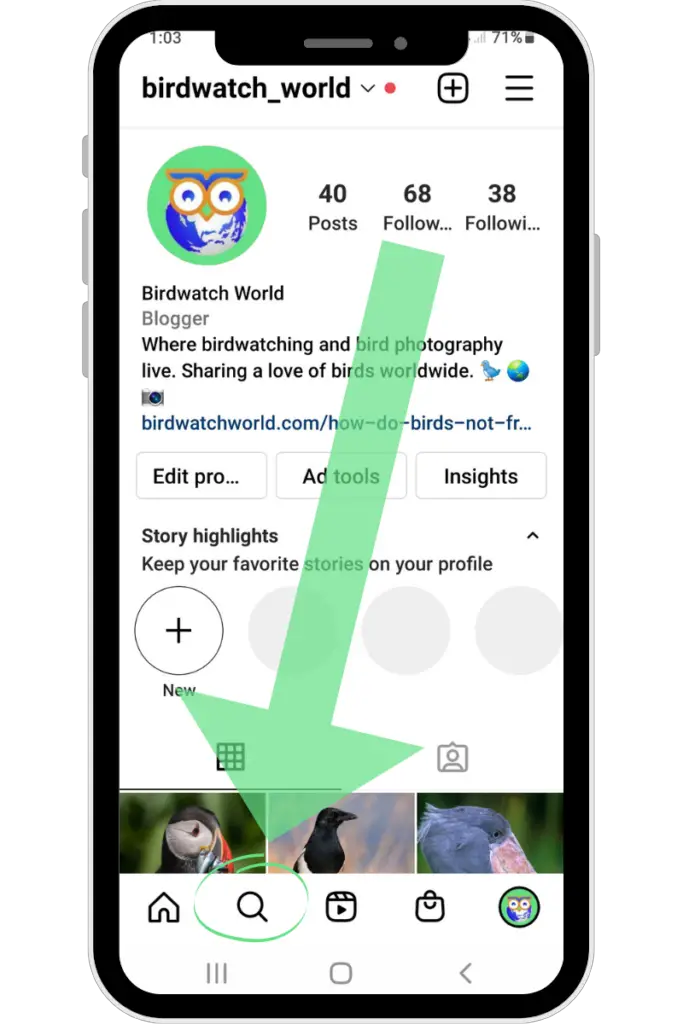 You can type any hashtag you like into the search box and Instagram will bring up a list of hashtags that include similar text.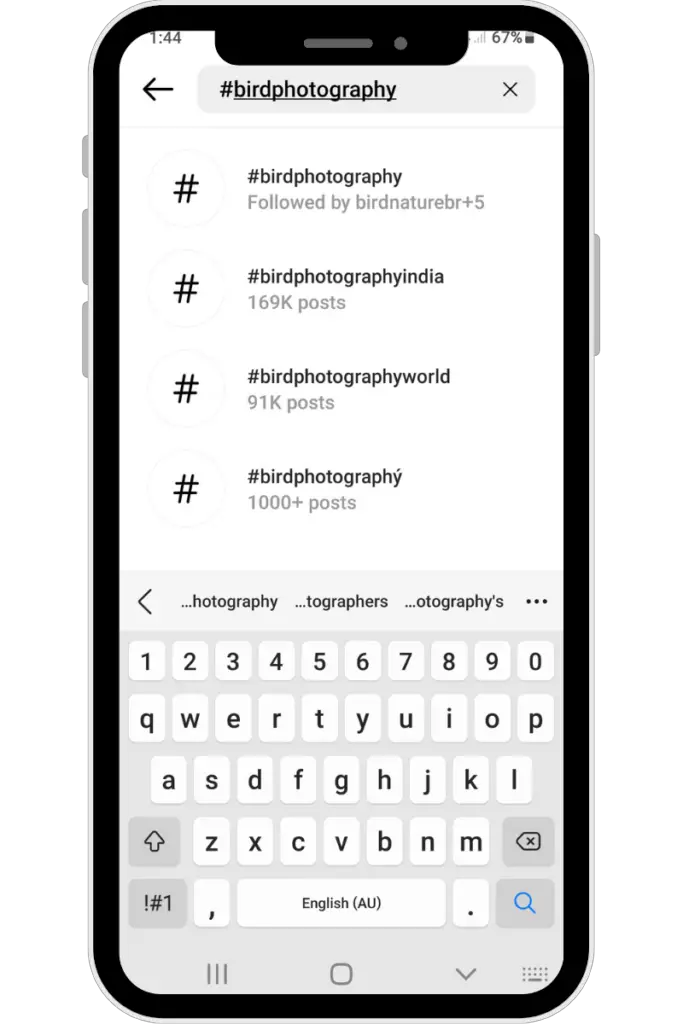 If you then tap on the top result (or any other if you like), Instagram will bring up all the posts that contain that hashtag.
You can follow the hashtag itself and you will begin to see its photos and videos appear in your feed. You can also browse the individual profiles by tapping on any of the videos or images.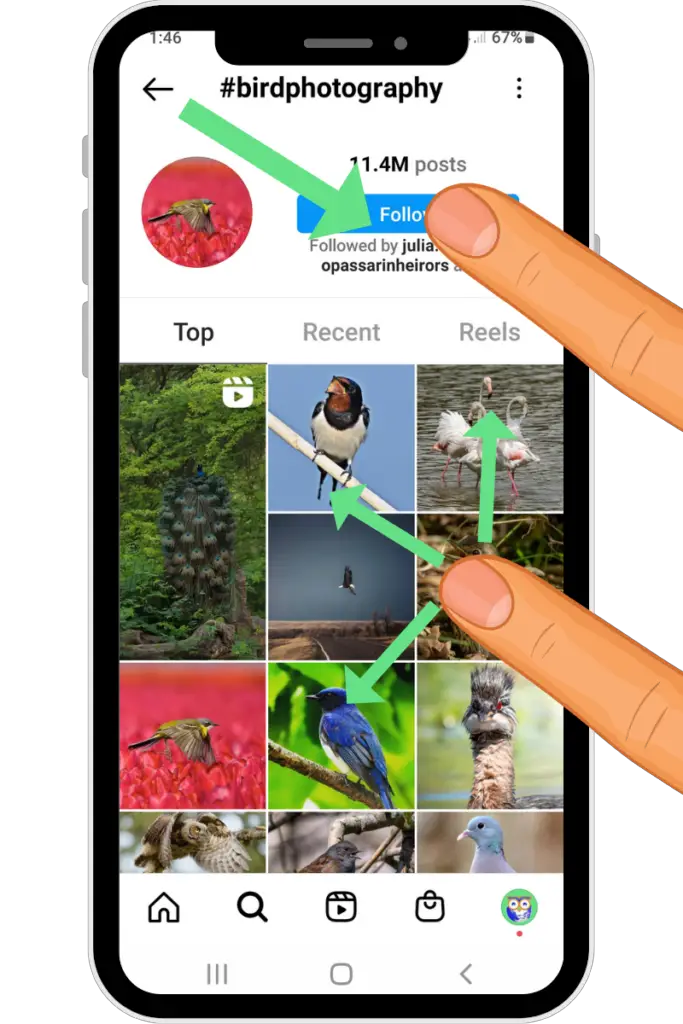 This is a brilliant way to discover incredible bird photography that you may have missed otherwise.
Conclusion
Grab your phone, get onto Instagram, and start discovering all the mind-blowing bird photography that people are posting every day.
Seeing images from other photographers can give you ideas for your own or inspire you to be a better photographer.
Make sure you follow @birdwatch_world and if you do, send me a message to let me know you found your way to it via this article. Happy Instagramming…