Bird photography is not really that popular right? I mean, you can't actually sell pictures of birds, can you? You absolutely can and I have done it for years. In this article, I am going to show you eight ways you can sell your bird photos and get some extra income.
Disclaimer – I am in no way promising you that you will make a full-time income selling your bird photos. That said, many people do in fact live quite comfortably off some of these methods. The effort you put in determines the value that comes out.
Let's start the list…
1. Stock Photography With Adobe Stock
Stock photography is the sale of photos that are licensed for a particular use. There are many stock photography websites that will allow you to upload digital images and then offer them for sale to businesses, magazines, bloggers, website developers, etc.
Stock photography is not just images of people working in offices or happy, smiling families either, your bird photos will sell.

A popular stock photography site is Adobe Stock.
Adobe Stock is from Adobe, the creators of Photoshop, Lightroom, and other such programs. Their site sells photos, illustrations, vectors, videos, and more and your images can be among them!
How To Sign Up
It is so simple to create an account with Adobe Stock.
Once you have navigated to their site, look for Sell in the top right corner menu.
Clicking on that will take you to a page where you'll see a blue Join Now button:
Once you have clicked on that you can enter the information they require and you'll be ready to upload images to your account.
What Can You Earn?
You will earn anywhere from $0.33 per image up to $70 per video[1]. Check the latest royalty information on their How Royalties Work page.
My Suggestions
All stock photography sites have conditions regarding how you upload your images and the quality of the images also. Make sure you read all the help pages regarding upload requirements.
I suggest uploading as many images as you can, the more you have uploaded, the better your chances of selling.
Also, read the information they have regarding keywording your images as this will help your images show up in search results more.
Unsure if you have the right gear to produce stock-worthy bird pictures? Read this article here on Birdwatch World.
2. Stock Photography With Shutterstock
Another stock site I suggest is Shutterstock.
Shutterstock sells images, videos, music, templates, and more. It's very easy to create an account with Shutterstock.
How To Sign Up
Once you navigate to the Shutterstock Contributor Homepage, look for Sign up in the top right-hand corner.
*Make sure you go to the Contributor Homepage and not the Shutterstock Homepage otherwise you will be signing up to buy images and not sell them*
After clicking on that button, you will be taken to the page below:
Simply enter your email address and a password and you will be ready to sell with Shutterstock.
What Can You Earn?
You are likely to earn anywhere between $0.10 per download and above. It depends on how many images you have in your portfolio and of course the number of downloads you get.
Shutterstock's royalties vary depending on your monthly sales. Here at Birdwatch World, I don't receive a great deal of money for sales as I have not uploaded many images or videos (I'm too busy working on this site!!):
Because I have not uploaded or sold many images, my royalties are low. Check the latest royalty information from Shutterstock on this page.
My Suggestions
As with any stock photography site, you want to make sure you read about their upload requirements and image quality requirements.
It is not likely that every image you upload will be approved for sale. Each stock image site has its own set of technical requirements for the photos they accept. Do your own due diligence there…
Is a 300mm lens enough for good bird photography? Find out in this post.
3. Print On Demand With Redbubble
Images are not just images anymore, you can turn your amazing shots into anything at all with print-on-demand services such as Redbubble.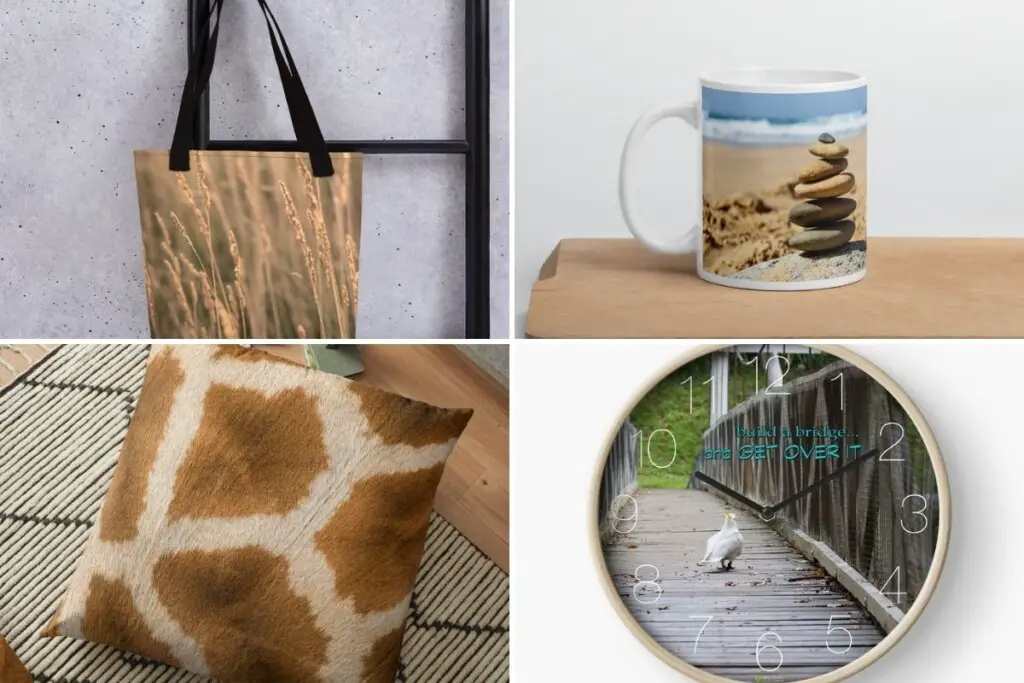 Print on demand is a process where you upload your image as per their requirements and they have a multitude of products onto which your images can be printed.
When a customer places an order, Rebubble prints your image onto the product and handles all the product fulfillment processes. You naturally pay a percentage of the cost of the item to them but hey, you didn't have to do anything but upload an image. It's easy money!
How To Sign Up
Go to the Redbubble Homepage and look for Signup in the top right-hand corner:
After clicking on Signup you will be taken to the page below where you can enter your details to create your account. Make sure you have Artist Signup selected before entering your details:
Once you are signed up, simply follow the instructions for uploading your images and adding them to all the products.
What Can You Earn?
The amount you can earn on Redbubble varies depending upon the markup price you set.
This is one of the great things about Redbubble, you may choose your own markup and increase your earnings whenever you like. I suggest you explore other artists' work and make sure you keep your prices competitive.
The default markup is 20%. Learn more about Redbubble's artist margins on this page.
My Suggestions
Redbubble can be a good earner if you put the work in. T-shirts are a very popular item on the site so if your images could work on a t-shirt you can do well.
I was earning quite well from Redbubble until one of my most popular items was removed due to breaching their rules.
Notice the canceled sales amount in the top right-hand corner, I did not lose any money because of this, Redbubble incurred those losses which is why they removed the product, I'm guessing. Apparently, I had been a bit misleading with the keywords I applied to that particular product, leading customers to be confused about what they were buying.
Be careful with the keywords you apply to your products and you should be ok.
Get some tips on the best focus mode for bird photography here in this article.
4. Print On Demand With Printful
Printful is a print-on-demand site like Redbubble only unlike Redbubble, they do not advertise your products, that is left up to you.
They have a wonderful variety of quality products.
How To Sign Up
Navigate to Printful's Homepage and look for Sign up in the top right:
On the signup page, you can sign up with Facebook, Google, Apple, or your email:
After you're signed up, follow the instructions for uploading your images and applying them to the huge selection of products. Unlike Redbubble, with Printful you upload to one product at a time.
What Can You Earn?
What you earn with Printful varies. You set the price of the products and earn more or less depending upon that. Printful takes 23%:
My Suggestions
Only sign up for Printful if you are prepared to market your own products. They do not advertise your products, they simply print the orders you take.
Printful does integrate with Wix, something that I found to be quite useful. You can upload a new image and add it to your online store right there from the Printful site.
If you update prices, they automatically update on your site also.
5. Put Products On eBay
This ties in with the print-on-demand sites above. Any products you create on Redbubble or Printful, you can put up for sale on eBay.
Redbubble manufacture framed prints, canvas prints, metal prints, and so much more. Any of these products can be purchased by you and resold on eBay.
If you are a crafty type, you can even create gift cards with your images and sell those on eBay. The possibilities are limited only by your imagination.
How To Sign Up
Over 100 countries worldwide have eBay, so hopefully, your country is one of them. This is how you sign up for eBay Australia.
Navigate to the eBay Homepage and look for register in the top right-hand corner:
This will take you to the signup page where you enter your details:
Follow all the instructions eBay provides to set up your account and begin selling.
What Can You Earn?
This is entirely up to you. What you earn will depend upon the amount of time and effort you put into it.
Learn about eBays fees here in Australia on this page.
My Suggestions
eBay is a lot of work. Unlike print-on-demand sites such as Redbubble, you are having to do all the product fulfillment, packing, sending, handling any returns, etc.
If you don't like hard work, don't do eBay.
6. Sell At Craft Markets
You need to be prepared to do some hard work here but selling at craft markets can be very successful if you do it right.
All the products you create on print-on-demand sites or by getting creative with your images (gift cards for example) can be put up for sale at a market.
How To Sign Up
Visit a local market and ask any stallholder for the market organizer, they will be there somewhere. Alternatively, you can go onto any market's Facebook page and message them.
Once you have the market organizer's details, you simply put your name down for a stall. If they have space, you could be selling at the very next market.
Market fees vary but can be anywhere from $20 AUD to $85 AUD or more.
What Can You Earn?
What you earn depends on you. You have to advertise, present your products well, and be good at selling face-to-face with actual human beings. Be prepared…
Make sure you can earn more than the cost of the fuel to get to the market, any food you need to purchase, and the market fees. You won't make millions doing markets but it can be a comfortable lifestyle if you want it to be.
My Suggestions
Doing craft markets is a lot of very early mornings, being at the mercy of the weather, and a lot of heavy lifting. If you don't like working hard, it will not be for you.
7. Sell Calendars
Bird photography calendars sell really well if you market them right. There could be hundreds or even thousands of bird lovers out there waiting to hang your images on their walls.
How To Sign Up
There's no sign-up for this. Simply find an online calendar printing service (there are HEAPS!) upload your images and get your calendars printed.
Vistaprint will make calendars for you starting at just $9 AUD.
What Can You Earn?
In 2021 I did a bird calendar. I only had 50 printed and sold all of them. Selling them at $22.95 AUD, I made just over $450 AUD.
This will depend upon how cheaply you can get the calendars printed, the price you are prepared to sell them for, and the amount of them you can sell.
As this is a once-per-year event, make sure you earn enough to make all the effort worthwhile.
My Suggestions
A bird photography calendar is like a portfolio of your work. Make sure you use only your best images.
Don't just choose photos that you like. If you have a Facebook page or Instagram account, ask your followers which images they would like to see in a calendar. I did this for my 2020 calendar and it created a lot of interest.
Get some great tips on the best f stop for bird photography here in this post on Birdwatch World.
8. Sell On Fine Art America
This last item on the list is one I have not tried. I decided to include it as they are the world's largest art marketplace.
Fine Art America has hundreds of thousands of artists selling their work on the site, and 16 global production facilities in 5 different countries running 24 hours per day.
Fine Art America is just like Redbubble, they print a large variety of products including prints, greeting cards, phone cases, home decor, and more.
How To Sign Up
Head on over to the Fine Art America Homepage and look for Sell in the top right-hand corner.
Clicking on the Sell text will take you to this page:
You want to click on Artists/Photographers and then you will find yourself on the screen below where you can enter your details:
Follow the instructions they will provide to begin uploading and selling your photos.
What Can You Earn?
Fine Art America works like Printful where they set a base price for the product from the manufacturer and you put whatever markup you choose on top of that.
My Suggestions
As I have not used Fine Art America before I can't provide any suggestions for you. The only advice I can give is "just try it." What have you got to lose? Like all of the print-on-demand services mentioned in this article, it's free to sign up, so go for it.
Summary
While images of birds may not sell as well as fashion photos, sports photography, or any other type of images, they will still sell.
I use bird stock photography all the time in my blogs as I don't have my own photos of every bird I write about.
Who knows, I may use one of your photos one day. You're welcome…
All the best with selling your pictures of birds. I said it before and I'll say it again – the effort you put in determines the value that comes out.