So you have decided to go on a birding trip and you are looking for some tips for planning it. You've come to the right place. In this article, I'm going to help you plan a birding trip the right way. I want you to get your preparation sorted out so you can find the birds you're looking for and have the trip of a lifetime.
The following list is organized to give you a step-by-step method for planning your bird tour. If you start from the top and work your way down, you will end up with a well-planned trip and you can start packing! I'm also giving you a free packing checklist.
1. Decide Where You Are Going
This is an important first step as where you go will influence a lot of other criteria for your expedition. In this step, you want to figure out if you will be birding locally, nationally, or internationally.
Your destination will depend on your budget, how much time you have available, and the species that you hope to see.
If you are going locally, chances are, you already know where you are going and this step is done. If you decide a national or international journey is what you want, you will have to do a little more research.
Finding great birding spots in your country or overseas is easy with eBird. You can use the eBird smartphone app or the online version to search for a location using the Explore Hotspots feature. On the eBird website, you can instantly see the areas where the most birds have been seen on the explore hotspots page map.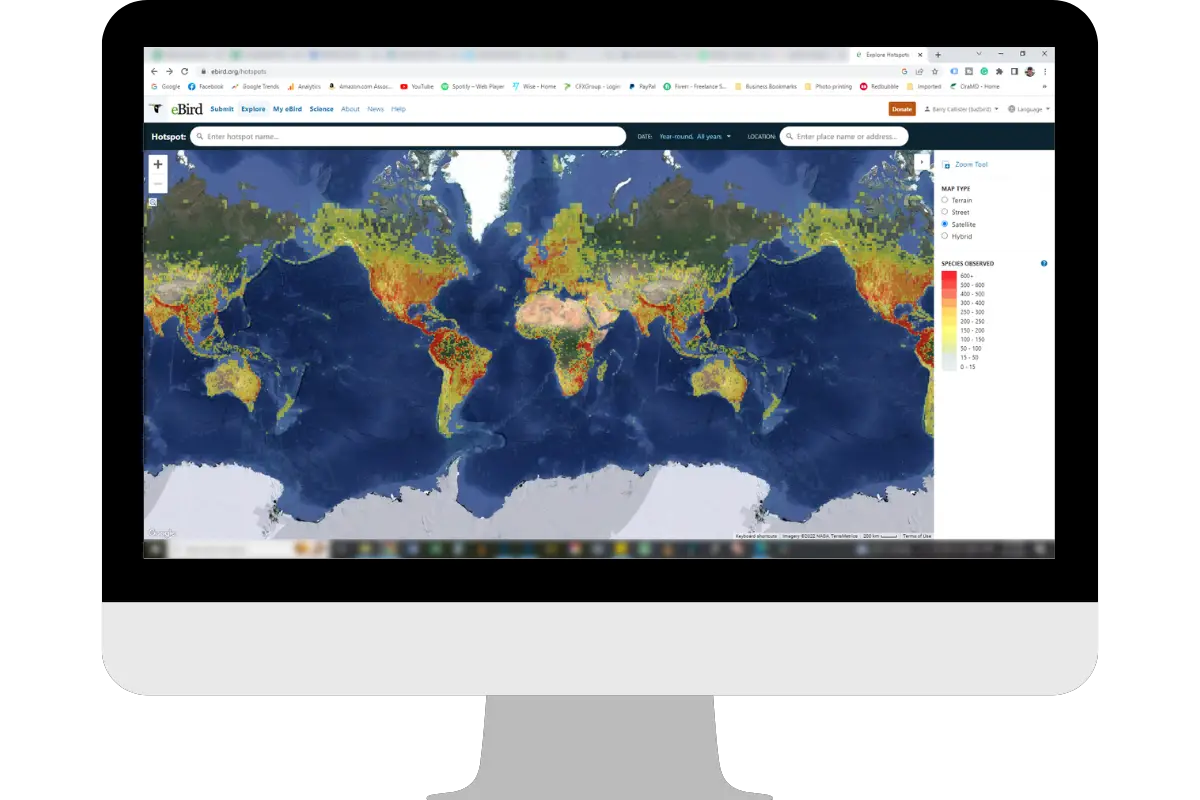 2. Pick Your Target Species
This can be the second step, or you might choose to do this first and then figure out where you're going. You will most likely have a species or two or more in mind.
If you're doing this as step 2, you will need to research the place you are going and find out what birds can be seen there. If you are targeting a migratory species, the time of year will affect this. A great tool for this type of research is again the eBird app or website.
Make a list of each species that you want to see and keep it in a journal or an app on your phone.
Get some inspiration for bird species in this article here on my blog.
3. Research The Birds You Want To See
This is where you learn as much as you can about your target species. Doing this will give you a better chance of being successful in seeing them.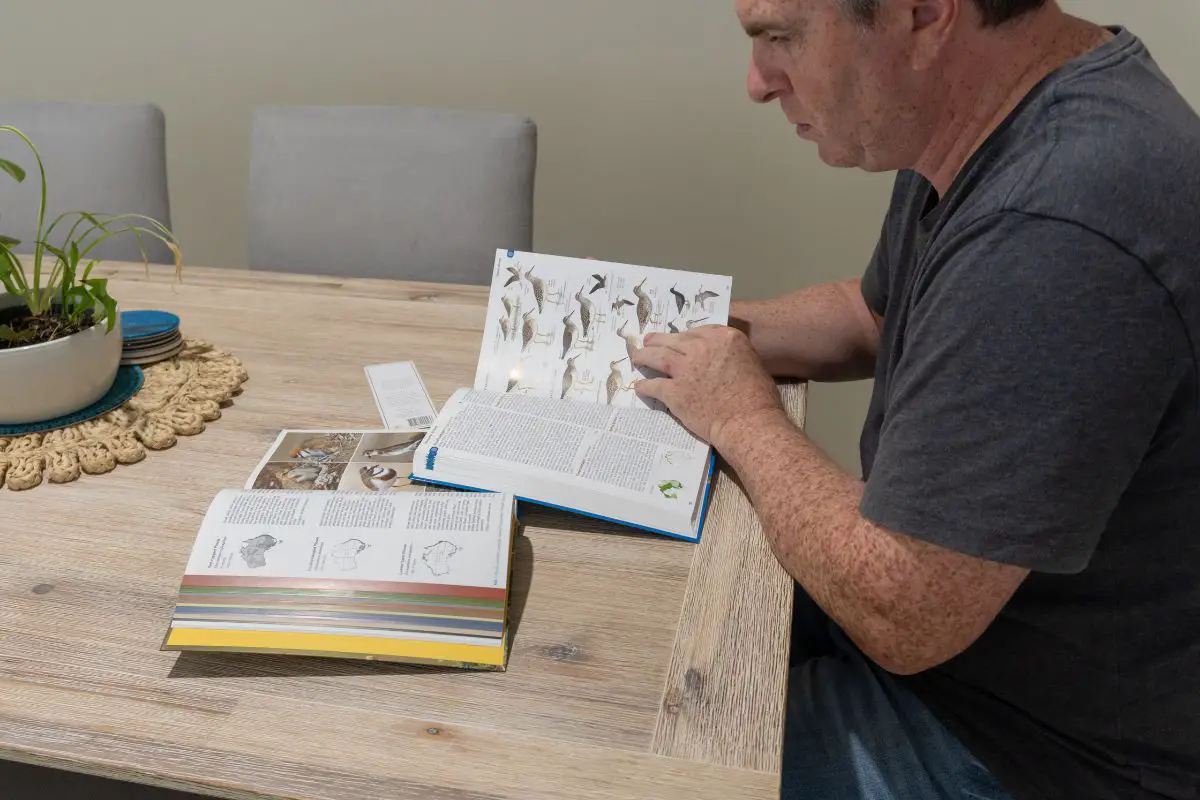 You want to read up on their preferred habitat, their diet, and their behavior. Get to know as much as you can about them. The more thoroughly you do this, the more you increase the odds of sighting them in the field.
I've listed some online resources for learning about birds below:
4. Figure Out Why You're Going
At this point, I suggest that you figure out why you want to see each bird. Having a clear why will help give you the motivation to do everything you can to make it happen.
Obviously, we are dealing with wild animals here, not to mention the weather, and anything (or nothing!) can happen. Having a clear idea of the outcome you want to achieve from your trip is going to put you in the right mindset to deal with anything that comes up.
5. Decide If You Want A Guide Or Not
Now is when you figure out if you are going to go on a guided tour or on your own. There are many great birding tours available and you can even hire a local guide and go one-on-one with them. It costs a little more to have a personal guide but this can be worth it.
If you decide to go it alone, you will have a bit more research to do. You will have to sort out getting to your destination and any other requirements such as permits, visas, vaccinations, travel restrictions, etc.
Remember, nothing is a substitute for local knowledge. If you are going alone, make sure you check in with a local from the area to find out about the birdlife. You can do this via Facebook Groups, Instagram, or online forums.
You may choose to visit a bird sanctuary on your trip. Learn more about them here.
6. Sort Out Your Accommodation (If You Need It)
If you've chosen to go on a birding tour, accommodation might be organized for you. If you're going alone, however, you'll have to book somewhere to stay.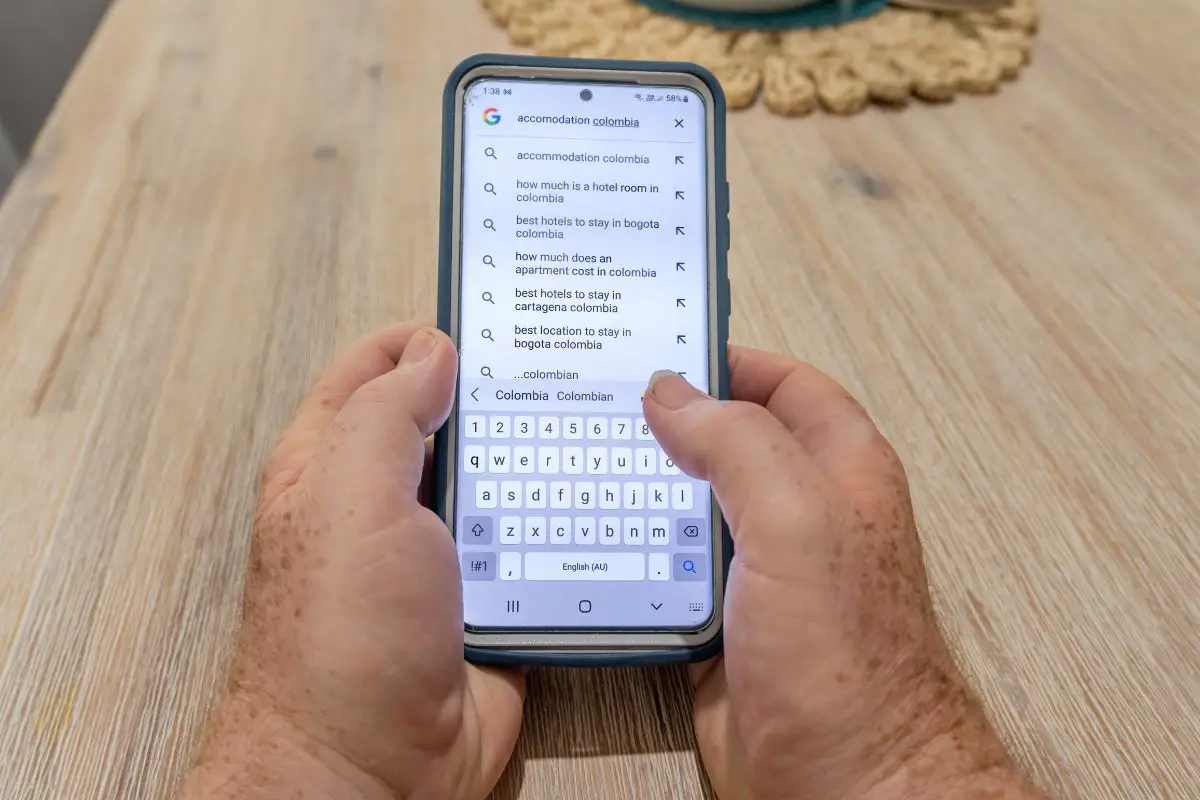 There are many options when it comes to accommodation: hotels, motels, camping, b 'n' b, hostels, glamping…the list goes on. What you choose will depend on the level of comfort you're used to.
If you decide to camp, this means a bit more planning in regard to what you need to take with you.
7. Decide How You Will Get There
What you do here will be determined by where you are going.
If you are staying local, you might just need your car, motorbike, or even your bike. If public transport is available in the area, you may choose to use that.
National travel might include a plane ride so you will have to book tickets, organize luggage, and figure out how you will get to and from the airport.
An international journey will require even more planning. You'll want to check travel restrictions first of all; then organize your passport, any visas you might require, and vaccinations as you could be going to some remote areas. Don't forget to book flights too!!
8. Organize A House/Pet Sitter
If you are going to be away for a period of time, you might want someone to look after your house or your pets.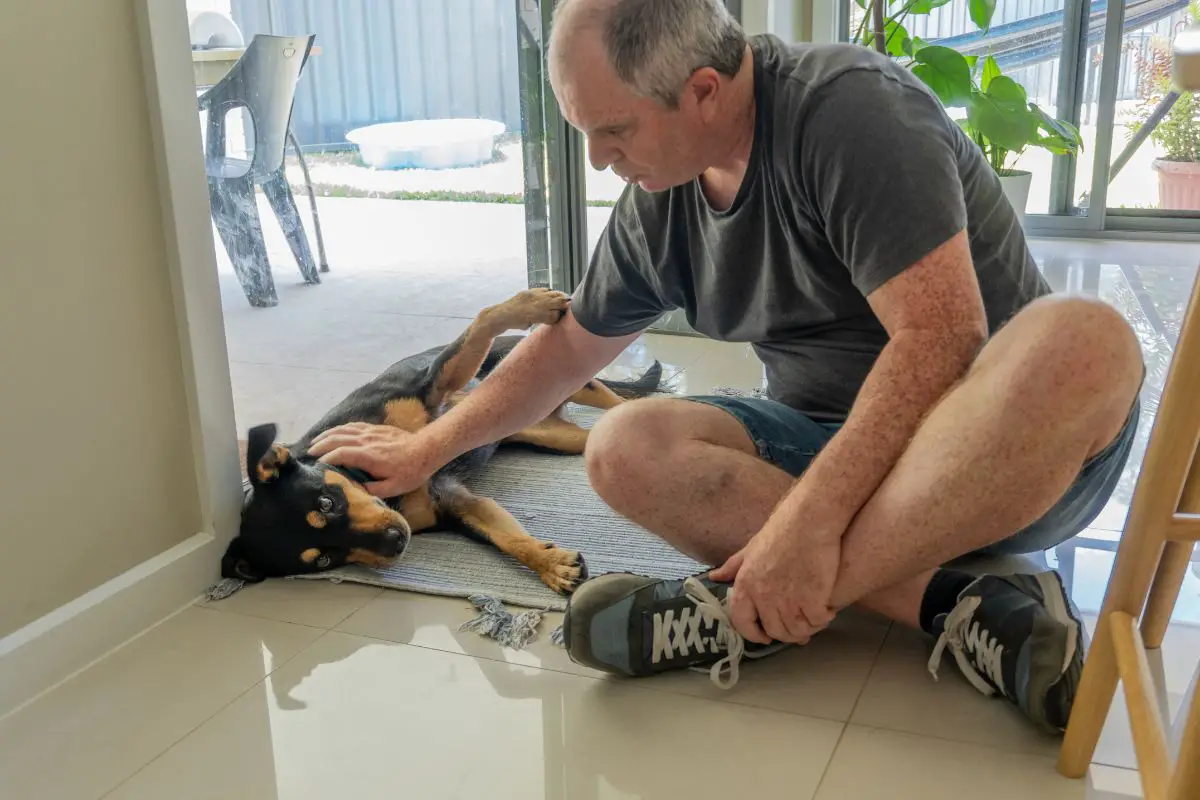 There are many options here including asking a friend to do it, putting pets into a kennel, or paying someone to come look after your home and pets at the same time.
9. Figure Out What It's Going To Cost
By now, you should have a clearly planned trip figured out. This should make it easier to work out how much all this is going to cost you.
If you are doing a local trip, you might want to skip this step as the cost will be minimal. For national or international travel, however, I suggest sitting down and working it out.
Be sure to include expenses such as vaccinations, visas, permits, food, incidental travel, and accommodation, and leave extra in the bank for emergencies or unforeseen circumstances.
Remember to get some travel insurance as well to give you a bit of extra piece of mind.
Do you need some new binoculars for the trip? Discover some of my recommended brands here.
10. Pack Your Gear
Now we get to the real exciting part – packing your gear!
I've included a checklist for you that you can download here. That includes some common items I would take with me on a birding trip. I've left space for you to add your own items to the list.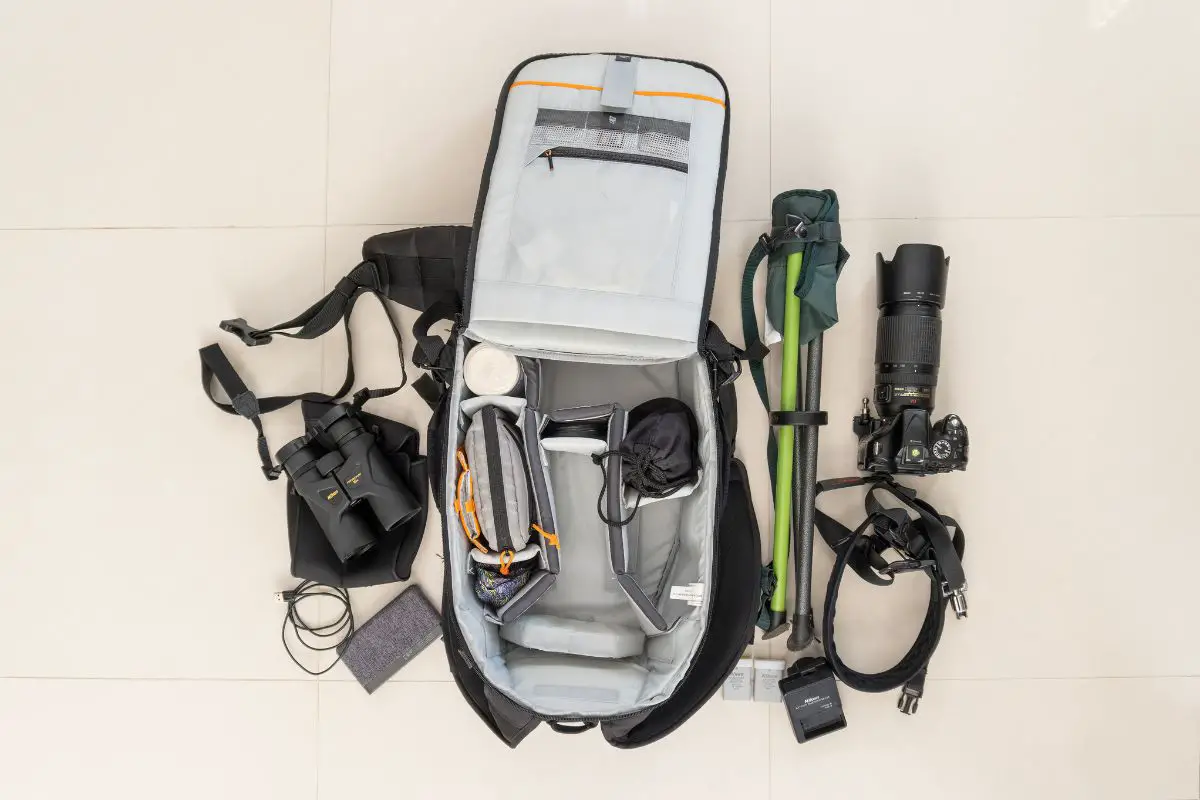 What you need to pack is going to vary greatly from trip to trip. Below is a list of things that may affect your packing list:
how long you are going for.
the climate you are going to.
the season you will be traveling in.
whether or not you will have to hike to the birding spot.
if you are going to take camera gear or not.
what type of bird-watching tour it is (pelagic, wetlands, etc).
whether or not you will be camping.
Summary
Following the tips above should have you planning a great birding trip. This article will be updated from time to time to make sure it has the most current information. I will also add more ideas to it as I think of them.
Enjoy your birding trip but remember one thing: having a plan is great but nothing beats the spark of spontaneity. If things go awry and it doesn't unfold the way you thought it would; take it all in anyway. You just may see a species you never planned for or expected.
When things don't go right, I'm always reminded of a quote from one of my favorite movies, The Best Exotic Marigold Hotel. In response to Evelyn Greenslade saying "Nothing here has worked out quite as I expected," Muriel Donnelly replies:
Most things don't. But y'know sometimes, what happens instead…that's the good stuff.