Understanding binocular magnification and choosing the right pair for your needs can be tricky. In this article, I'm going to present you with a binocular magnification chart that will help you to choose the right ones at-a-glance. I will also explain some of the basic terms you may come across when shopping for a pair of binoculars for birding.
A binocular magnification chart is a table showing the different magnifications of binoculars. Various other information about the binoculars can be included, such as the field of view, exit pupil measurement, and eye relief measurement. The chart in this article deals with binoculars for birding.
Before we look at the chart, I'm going to explain a few of the basic terms that you might come across when browsing for binoculars. These terms will help you better understand the magnification chart and make better decisions when purchasing your pair of binoculars.

As an Amazon Associate, I earn from qualifying purchases. Birdwatch World earns commissions from Amazon and similar affiliate programs from any purchases made via links in this article.
What Do The Numbers On Binoculars Mean?
If you don't understand this, you're in trouble from the start. The two numbers on binoculars are the most important things you need to understand.
The numbers on binoculars are the magnification (power) and the diameter of the objective lenses (the lenses closest to the object you are viewing). A pair of 8 X 42 binoculars have 8 times magnification (they make things appear 8 times larger) and the objective lenses are 42 mm in diameter.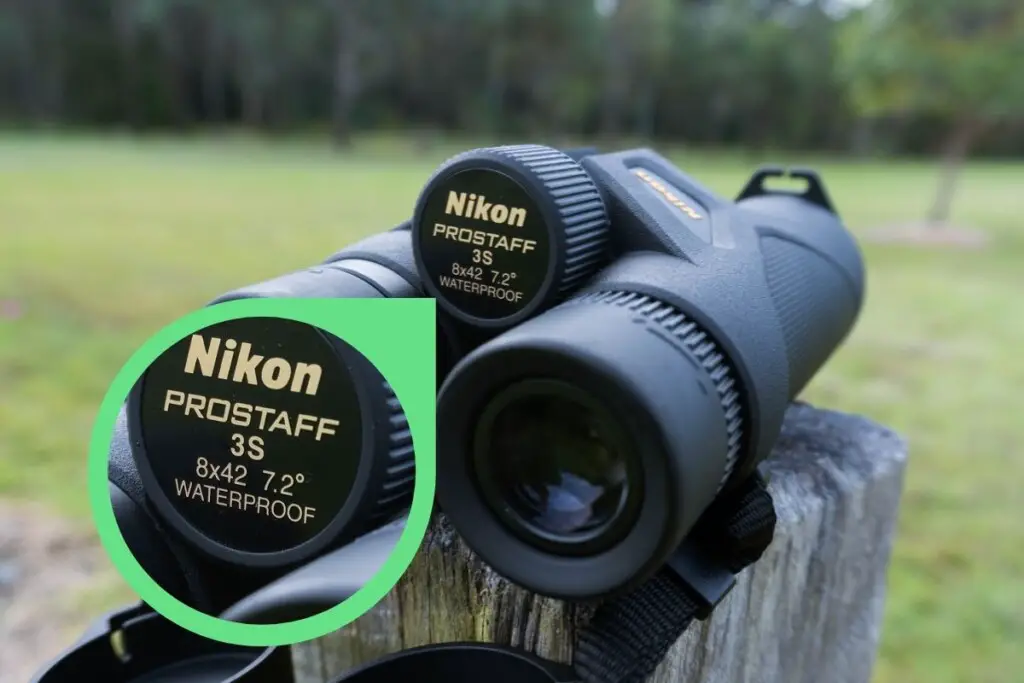 Discover all the gear bird watchers need in this article here on my blog.
What Is Exit Pupil?
This is one of the strange terms binocular companies use that can confuse someone who is just getting their head around binoculars.
The exit pupil of a binocular is the width of the section of light that reaches your eyes. It is recorded in millimeters and is the diameter of the circle of light you see in each eyepiece when holding the binoculars about 30 cm away. The larger the exit pupil, the more light reaches your eyes.
Exit pupil is calculated by dividing the diameter of the objective lens by the magnification. My Nikon Prostaff 3s 8×42 binoculars have an exit pupil of 5.3mm.
42 ÷ 8 = 5.25
This value is rounded up to 5.3mm.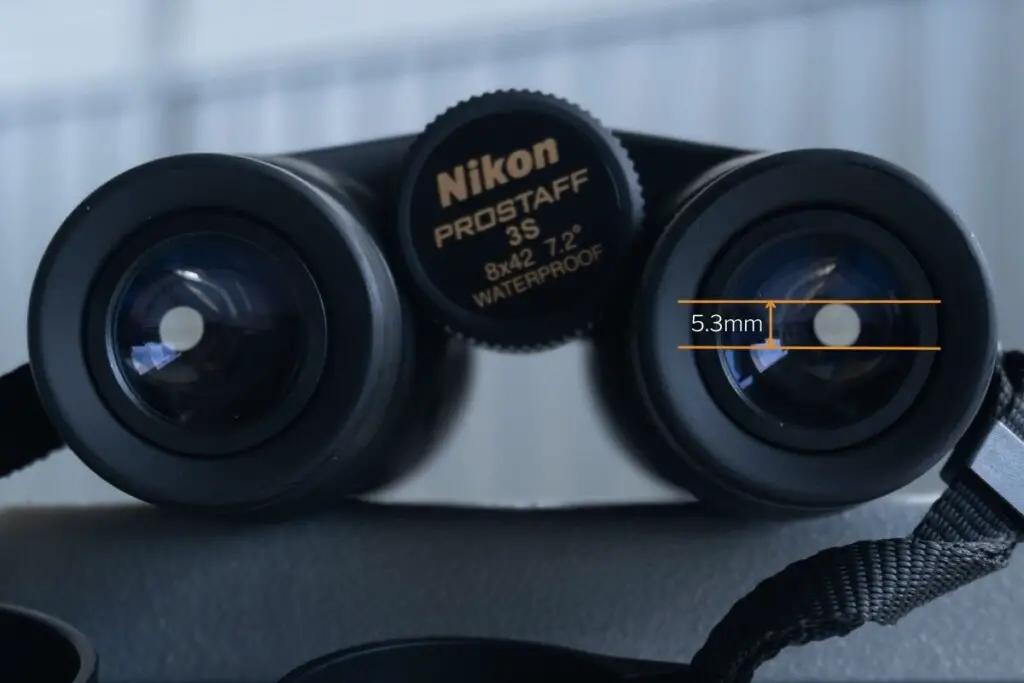 The largest effective exit pupil is 7 mm as this is the average pupil aperture of the human eye in low-light conditions.
You may be thinking that having the largest exit pupil would be best but there are other things to consider. A pair of 8 X 56 binoculars will give you a 7 mm exit pupil but the larger the objective lenses, the heavier the binoculars.
Get some tips for birdwatching at home in this post here on my site.
What Is Eye Relief In Binoculars?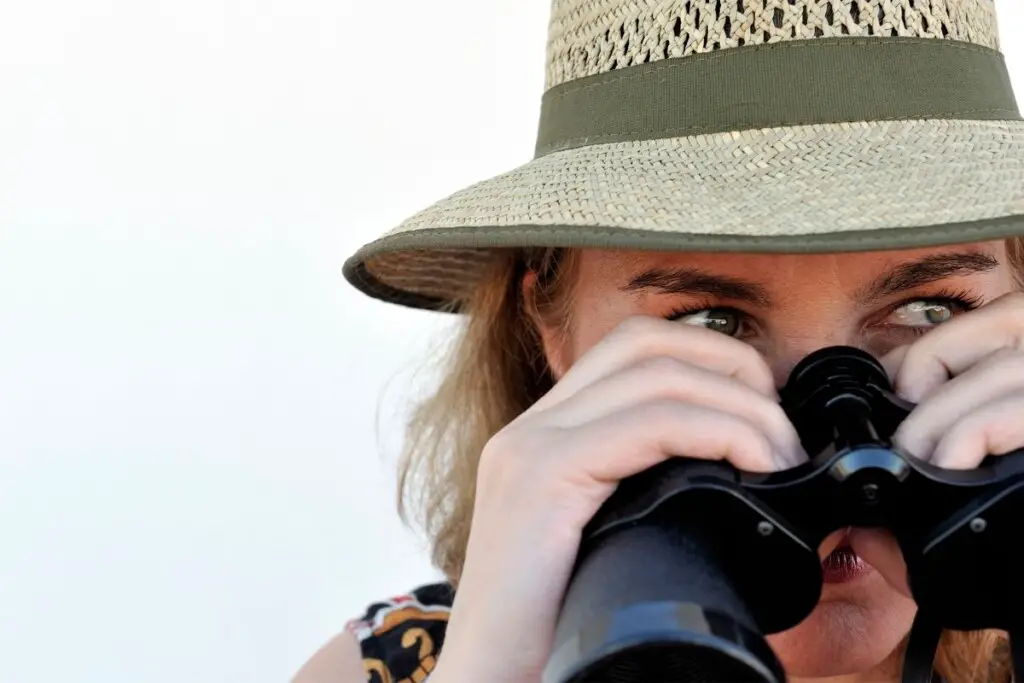 Another important measurement when it comes to binoculars is eye relief. This is especially relevant for people who wear glasses when using their binoculars.
Eye relief in binoculars is the distance from the outer surface of the rear lenses (ocular lenses) to the point where the exit pupil forms. This is the point where the image you see through the binoculars comes together or forms up. This is especially important for people who wear glasses.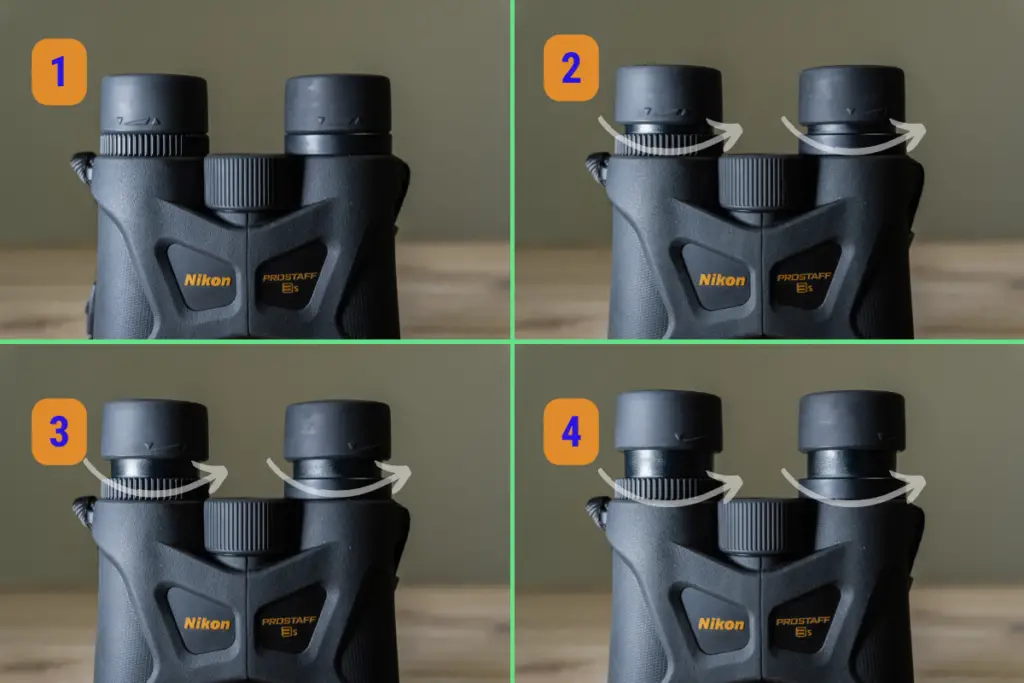 A good pair of binoculars will allow you to adjust the eye relief. By rotating the eyecups you can increase or decrease the distance between the ocular lenses and your eyes, ensuring your eyes are just the right distance from the lenses.
If your eyes are too close to the ocular lenses, you will get vignetting or a dark shadow in a crescent shape at the edges of the image.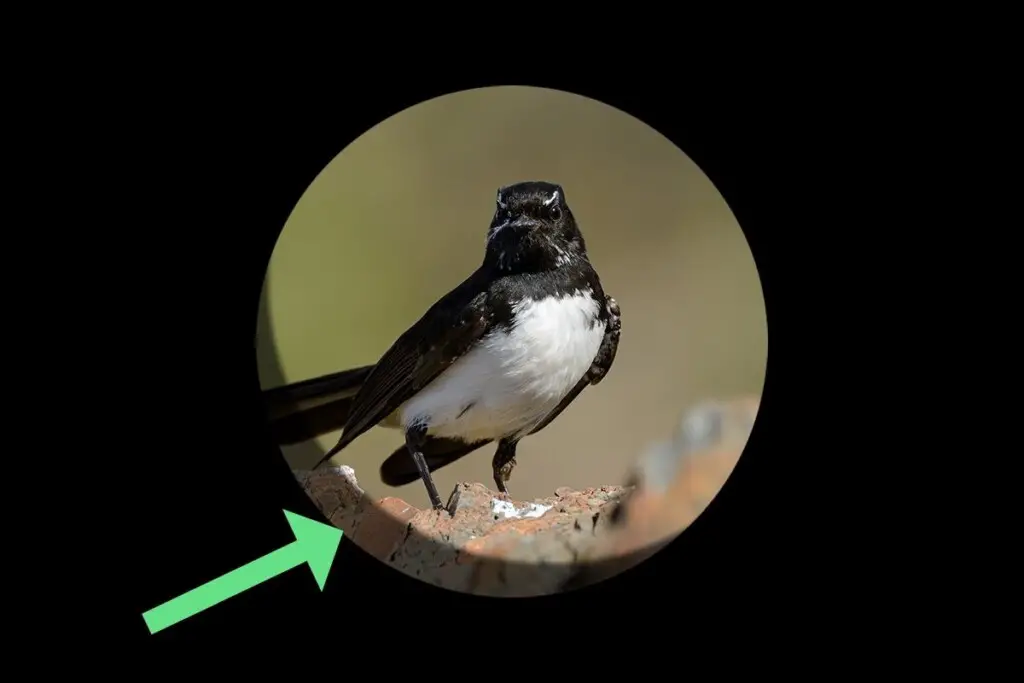 If your eyes are too far away from the ocular lenses, you will see vignetting around the circumference of the field of view like this: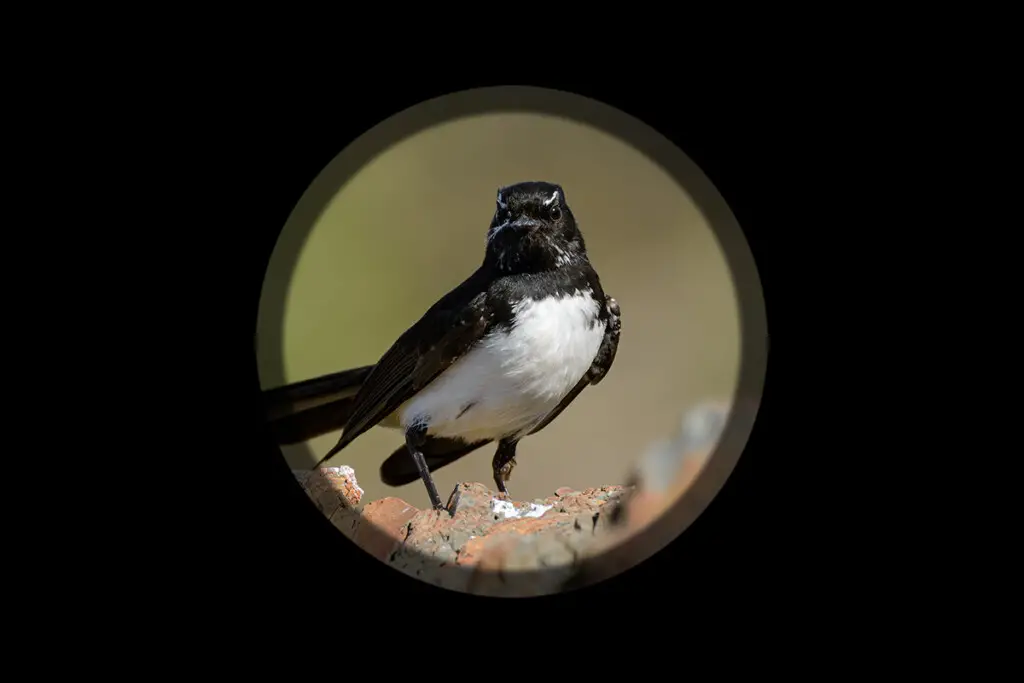 If you wear glasses when using your binoculars, you should make sure that you get a pair with no less than 13-15 mm of eye relief.
Eye relief will be different from binocular to binocular.
Get 11 tips on how to approach birds in this post.
A Binoculars Field Of View
A binocular's field of view is a measurement of the lateral distance you can see when looking through them. The linear field of view is the width of what is seen left-to-right at 1000 yards from the objective lenses. The angular field of view is the angle created by that view, for example, 8°.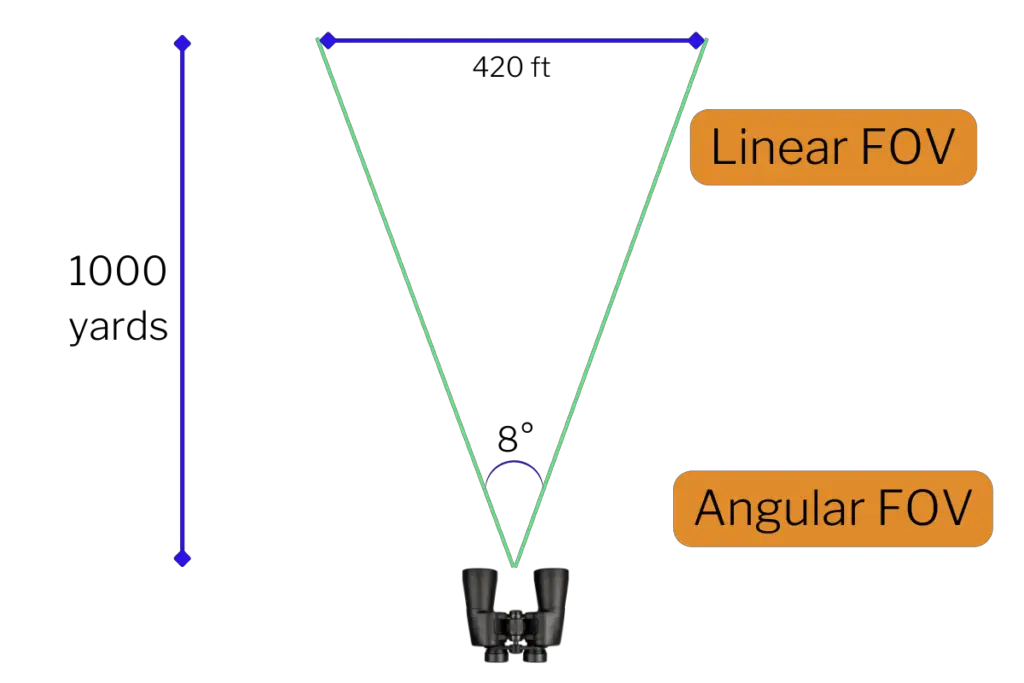 The greater the magnification of a binocular, the smaller the field of view. This is the reason that it is not always best to have more magnification for bird watching. The reduced field of view of higher magnification binoculars makes it hard to both find and track moving birds.
The ideal magnification for bird watching is 8x. Some people use 10x but the majority of birders like 8x binoculars.
What Is Twilight Factor In Binoculars?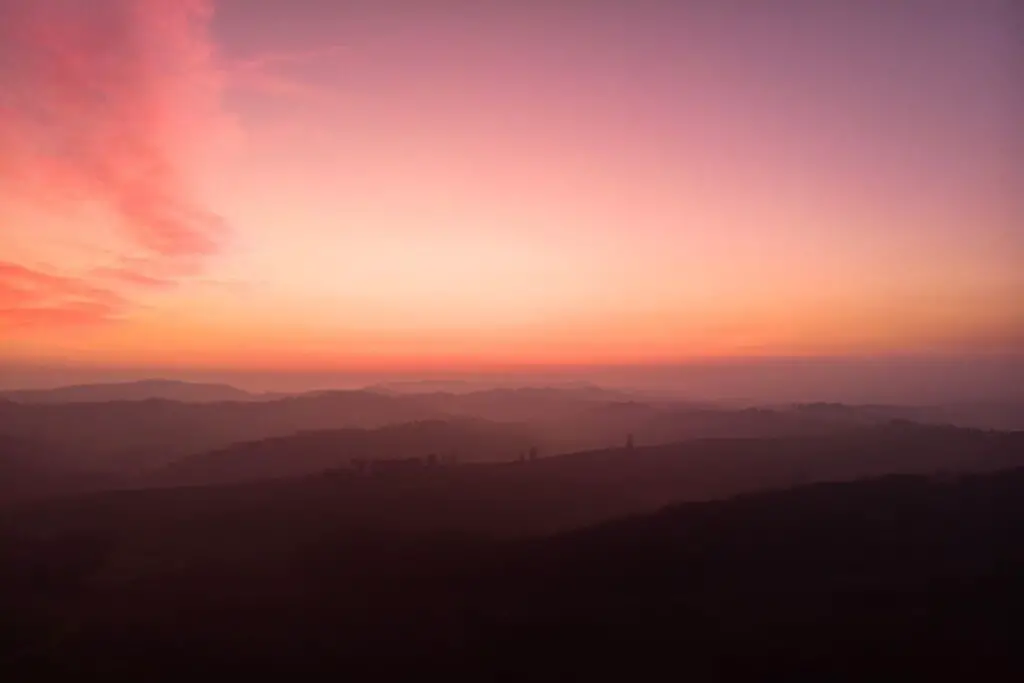 Twilight factor in binoculars is a rating of how well a binocular performs in twilight conditions. It is calculated by multiplying the magnification by the diameter of the objective lenses and then finding the square root of the result. Higher numbers mean better performance during twilight.
There will be times when you want to use your binoculars during twilight hours. Birds are more active at dawn and dusk and light conditions during these times can be challenging.
The twilight factor of a pair of binoculars gives you a rating of its performance in low light. The higher the number, the better the brightness and resolution of the image you see will be.
A pair of 8×42 binoculars will have a twilight factor of 18.3. This is how we calculate this number: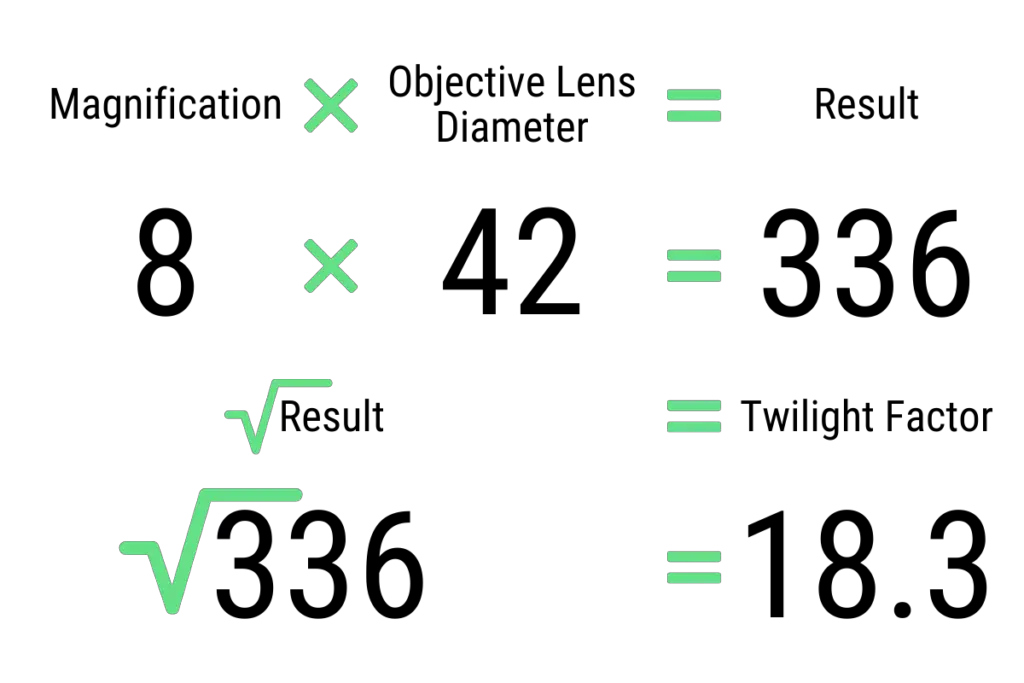 Binocular Types
Another thing you need to be aware of is that there are two types of binoculars: roof prism and Porro prism. These names refer to the internal build of the binoculars.
Porro Prism Binoculars
These are the binoculars we are used to seeing in war or safari movies. These are the classic design of binoculars.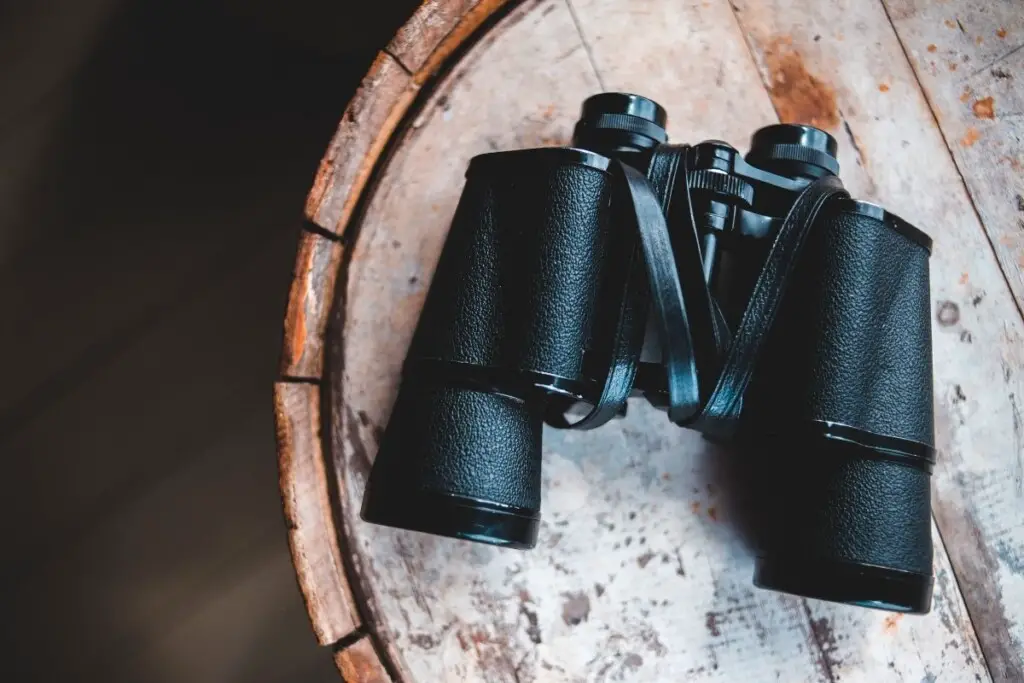 Porro prism binoculars are designed with the objective and ocular lenses slightly offset from each other. The path the light takes through the binoculars is not a direct one. As a result of this, they are usually heavier than roof prism binoculars as they contain more parts.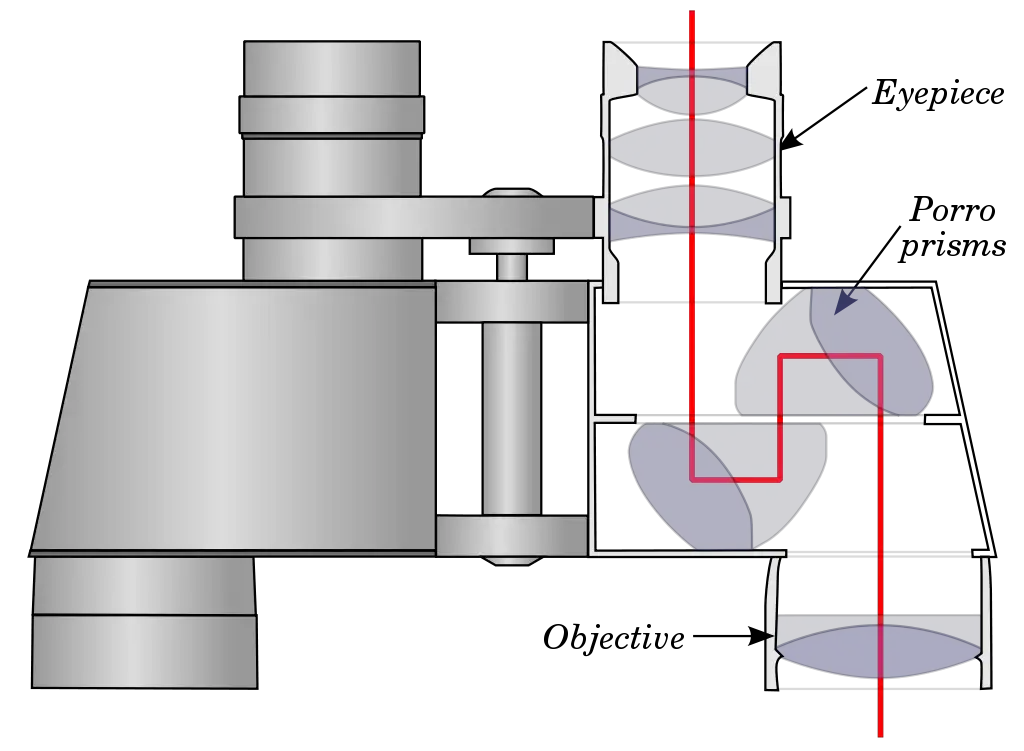 In addition to being heavier than roof prism binoculars, Porro prism binoculars are also not weather-sealed. While they may be a cheaper alternative for bird watching, they will be bulky, heavy, and not ideal in wet weather.
Roof Prism Binoculars
Roof prism binoculars are a more common sight these days. This type of binoculars has objective and ocular lenses in alignment, meaning the light takes a straight path through the lenses to your eyes.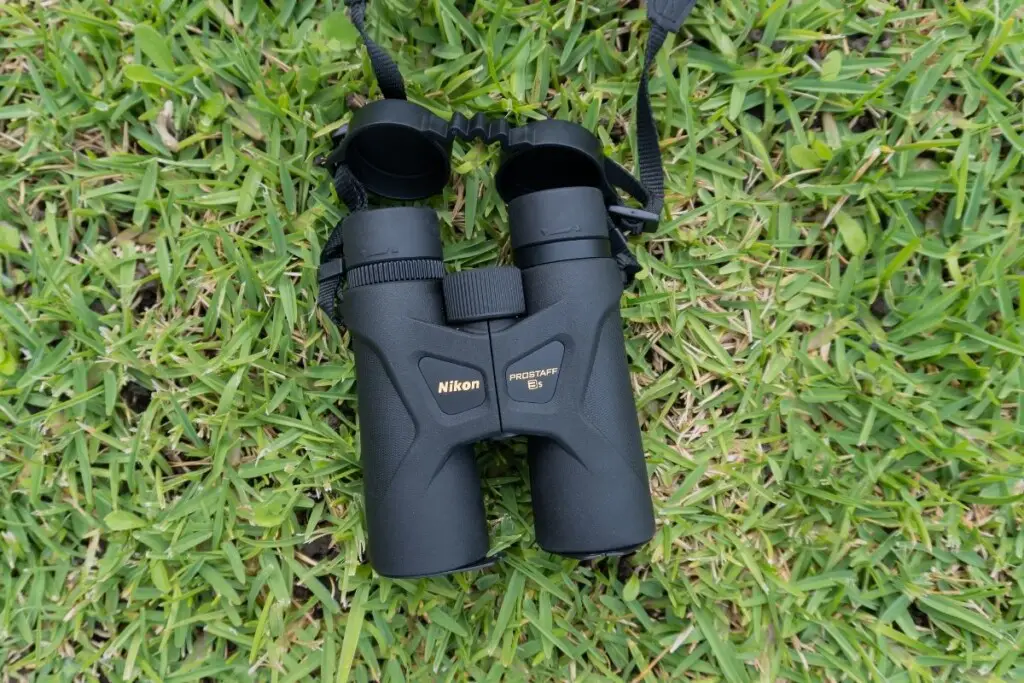 Roof prism binoculars are lighter than Porro prisms, have better weather-sealing, and are more compact.
The image below shows the difference in how light passes through each type of binocular: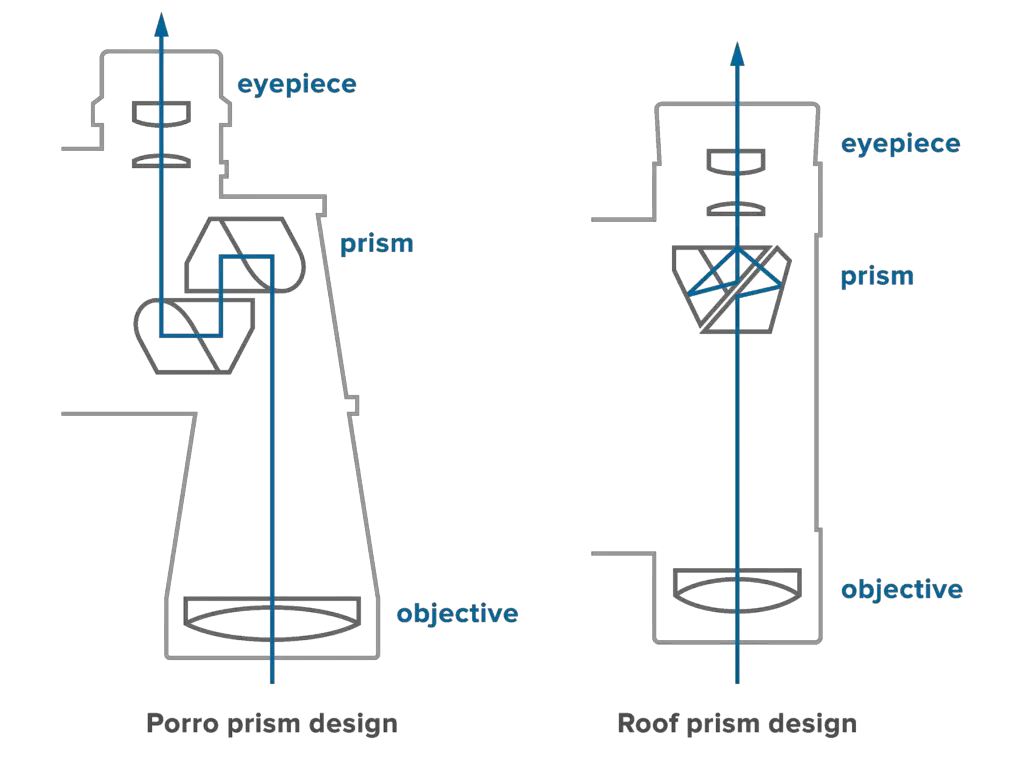 Learn some tips for finding birds to watch in this article.
Binocular Magnification Chart
Below you will see my binocular magnification chart. You can click or tap it to view it full size and download it for later reference.
Not all available binocular magnifications are included in this table, I tried to stick to the most common ones. When researching the figures for this table, I used common brands such as Vortex, Celestron, Swarovski, Bushnell, Nikon, and Maven. You can find the link to their sites in the References at the bottom of this article.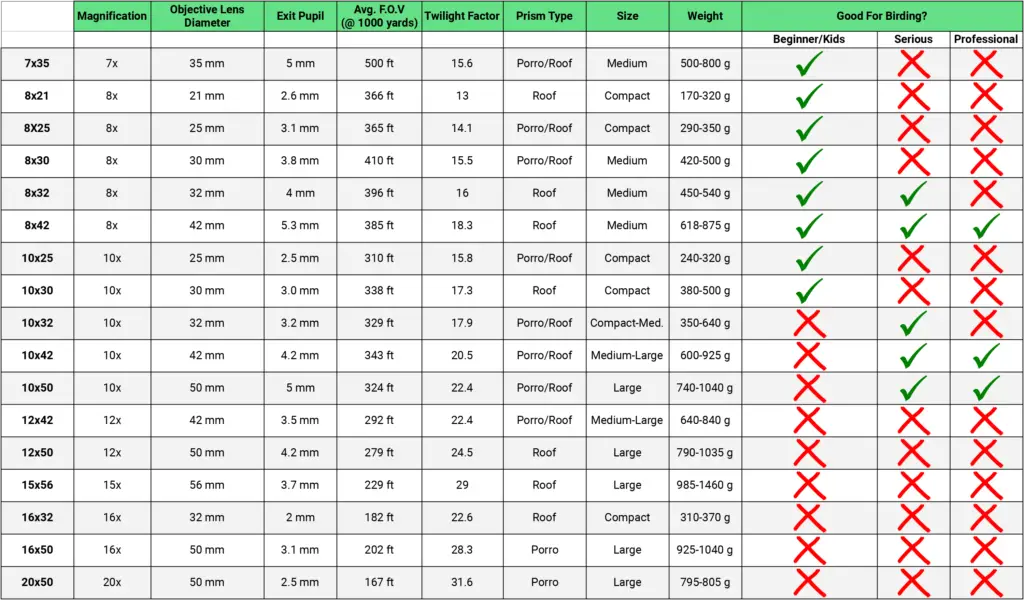 The field of view column is an average value calculated from around 10 different binoculars in each magnification category. You might find that you come across some pairs that have greater or lesser fields of view.
The weight column is simply giving you a range of weights for the different binoculars I researched. You might find some that are heavier or lighter.
The recommendations in the 'Good For Birding?' columns are based on my personal opinion and the standard magnifications that are used by many birders.

Binocular Recommendations
I couldn't finish this article without giving you my recommendations for binoculars. I have not used all of these but they are from top brands and have great reviews on Amazon.
1. Nikon Prostaff 3S 8×42
I have had a pair of Nikon Prostaff 3S 8x42s for over 5 months now and they are great birding binoculars. The image is bright and clear, they feel good in your hands, and they are not too heavy.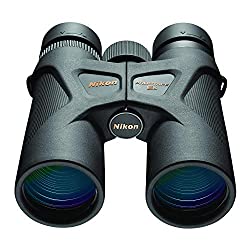 They are reasonably priced at around 126 USD on Amazon. I would not say that they are top-quality binoculars, the image does have some chromatic aberration (coloring on the edges of dark objects that are backlit) but for the price, they do a top job.
Explore Nikon Prostaff 3S 8×42 offers from Amazon, Adorama, and eBay below:

2. Celestron Outland 8×42
The Celestron Outland 8×42 are binoculars I considered purchasing when I was first looking for a pair. They are still on my list to purchase and review, I just have not gotten around to it yet.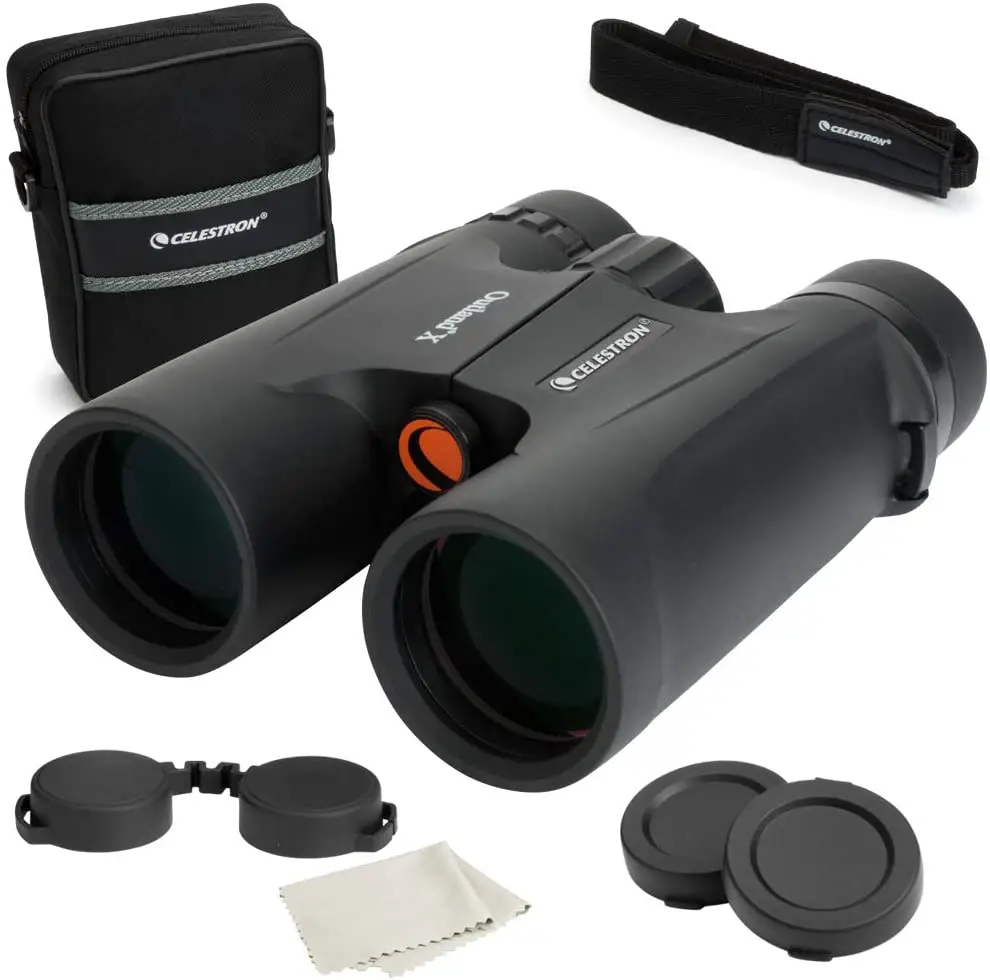 These binoculars have great reviews on Amazon from over 3400 shoppers. Celestron is a very trusted company in binoculars that make quality optics.
A bonus these have that my Prostaff 3S doesn't is a tripod mount. You can attach a tripod adaptor (sold separately) and mount them to a tripod for steady viewing. This is one feature I was disappointed the Prostaff 3S did not have, though that wasn't a deal-breaker for me.
Explore offers from Amazon, eBay, and B$H on the Celestron Outland 8×42 via the button below:

3. Vortex Optics Diamondback HD
Vortex Optics is another well-known brand in binoculars. They make top-quality optics and you could do worse than owning a pair of their Diamondback HD 8×42 binoculars.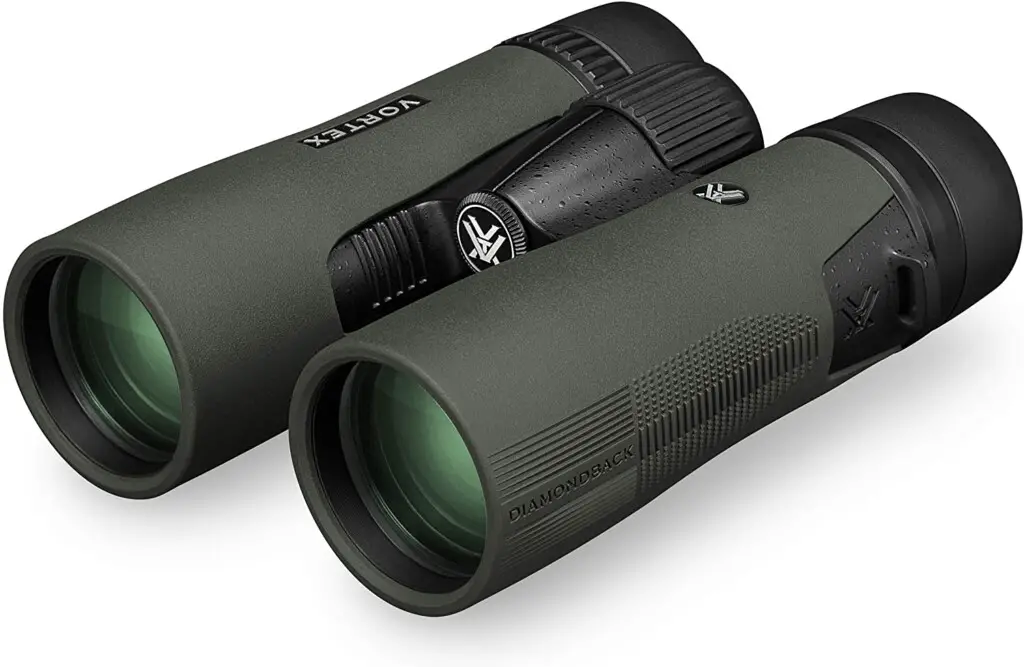 These binoculars have 5-star ratings from over 5300 reviews on Amazon. They are waterproof and fog-proof (as are the others above), stylish, and their green color will blend in well with the surroundings.
Vortex binoculars are a little heavier than some but this shows they have a rugged design. Explore offers from Amazon, Adorama, and eBay via the button below:

4. Swarovski 8×42 NL Pure
These are the pinnacle of birding binoculars. They say "once you go Swarovski, you never go back." They are expensive so if you are shopping for your first pair, perhaps skip the links in this section. If you're serious about your birding and want the best of the best – the Swarovski NL Pure 8×42 are the binoculars for you.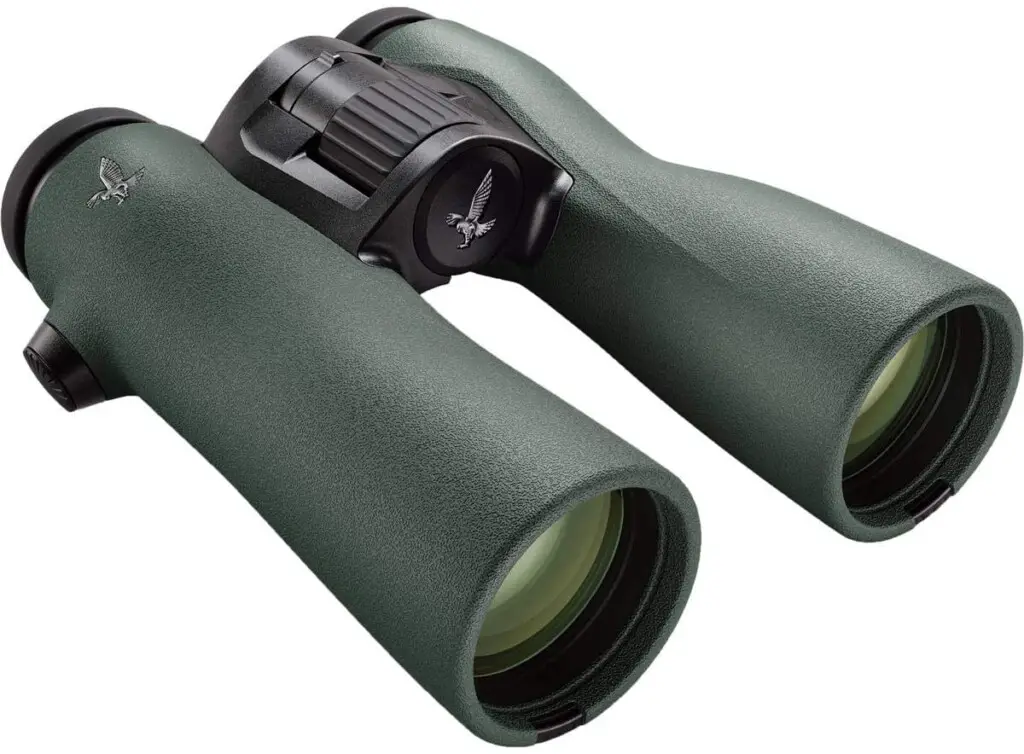 These binoculars are ergonomically designed to fit perfectly into your hand. This means they not only feel good in your hands but you can also use them for longer which means more time bird watching.
They boast the "largest-ever field of view with almost indiscernible edges." Anyone I have heard talking about Swarovski binoculars raves about the clarity of view they provide.
This may be the only pair of binoculars you will ever need. Explore offers from Amazon, Adorama, and eBay via the button below:

Conclusion
Hopefully, you now know more about binoculars than you did before discovering this article. I wish you the best in choosing the right pair for your needs and tastes.
Remember to download the binocular magnification chart, and save it to your phone or computer to refer back to later on.
Thank you for reading this article today. Happy birding and I might see you out there somewhere…
References
---