Birdwatching is a great activity that many people find relaxing and fascinating. You really don't need anything at all to start birdwatching, just the desire to do it and some birds to watch. I have been observing and photographing birds for over 7 years and I'm going to give you some great tips about how to bird watch from home.
As an Amazon Associate, I earn from qualifying purchases. Birdwatch World earns commissions from Amazon and similar affiliate programs from any purchases made via links in this article.
1. Find A Location To Bird Watch From Home
If you have a garden that already attracts birds, you can tick off this item right away. All you need to do is find a place where birds regularly come to in your garden, sit still and quiet and you can enjoy your local birdlife.
I used to live in a beautiful home in the bush of the Dandenong Ranges in Victoria, Australia. We had a beautiful garden with some tree ferns and other plants, as well as a bird feeder and birdbath that would attract many different birds. I could quite literally sit on my front porch and watch birds only meters away from me.
Read about another close encounter I had and get tips for how to approach birds in this post.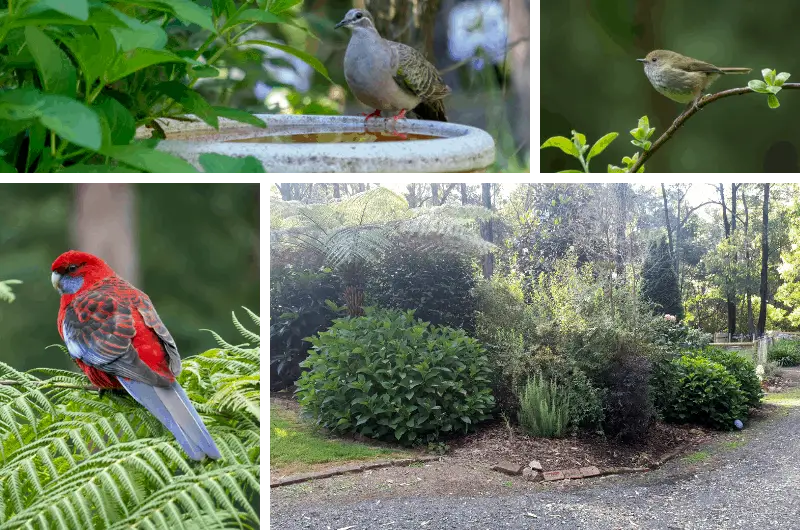 You may need to go daily to the spot in your garden you pick out and just sit there. If you don't make any sudden movements or too much noise, the birds will eventually get used to you and will likely come closer. You don't need to be hidden from them, though this may help with some species.
Now you may not have a garden or a place within your existing garden where you can sit and watch birds. Don't be discouraged. As long as you have some type of yard you can still attract birds by installing a bird feeder, birdbath or pond, or plants that will attract them. We'll look into this later in this post.
So what do you do if you don't have a garden or a yard? Well, do you have some kind of view from a window in your home where you can see birds? If you do, that's great because all you will need then is a good pair of binoculars so you can see them just a little bit closer. We will explore binoculars a bit later on in the post too, I will give you some great recommendations for really good binoculars as well as budget pairs.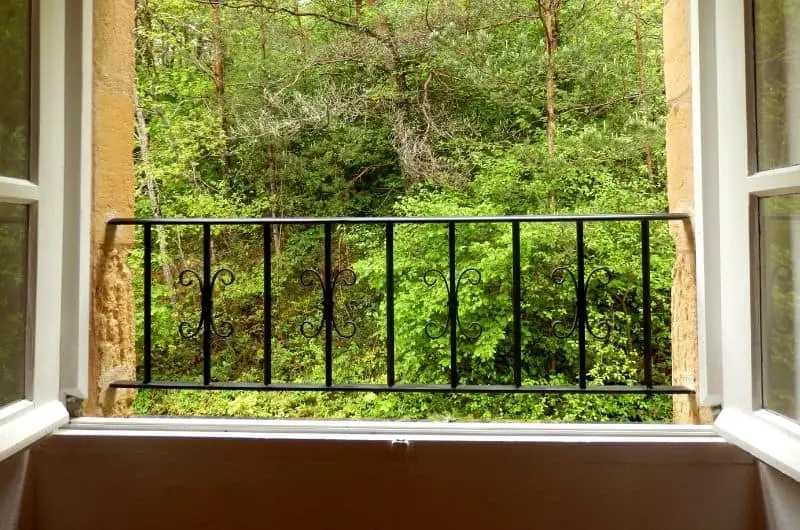 If you don't have a garden, a yard, a view of a park or garden then I'm afraid you only have two choices:
Go out and find a park, garden, or place where birds frequent OR
Enjoy watching birds on your TV.
"Watch birds on your TV you say?!" I know, this sounds ridiculous but if you don't have a place outside you can go, then this is the next best thing. There are many great YouTube videos that are designed for cats and humans to watch such as this one with 3 hours of amazing African Birds.
This is the best thing about bird watching on your TV, computer or phone – you can go anywhere in the world! This is a great way to relax and just watch some of nature's most amazing creatures going about their lives from the comfort of your own home. Simply do a search for "birds video" on YouTube, and you will find many of them.
2. Remain Still
I know I mentioned this earlier but this is very important. There are some bird species that have become accustomed to humans but there are others that aren't. Pretty much any bird is going to be scared by sudden movements or loud noises, so you want to remain still and quiet.
For a detailed look at why birds are afraid of humans, read my Why Are Birds Scared Of Humans? – Are we that bad?! post.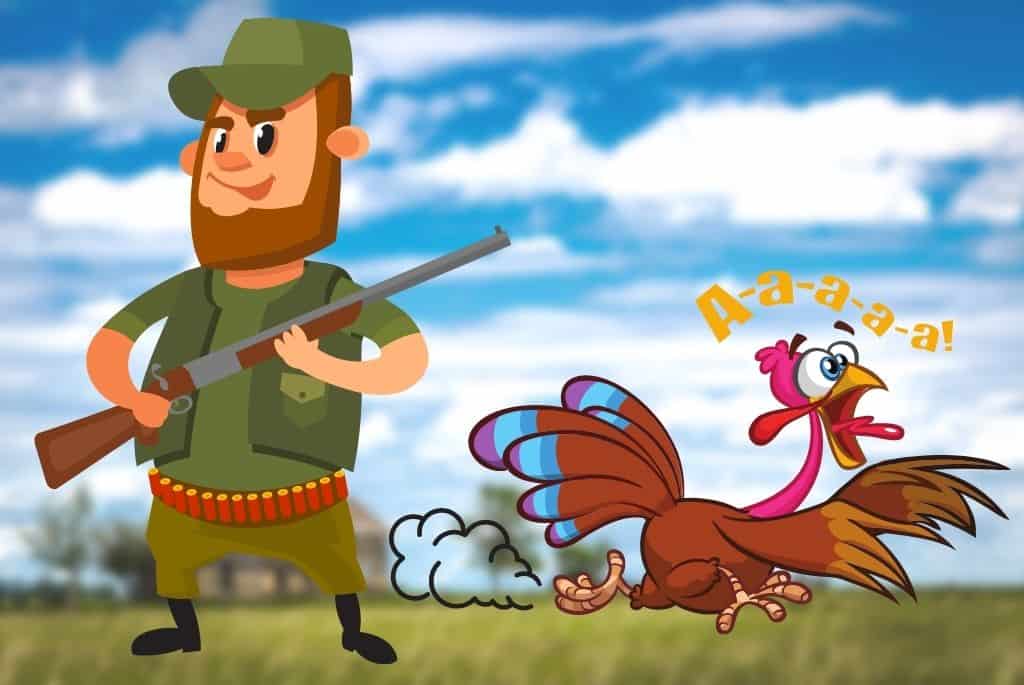 You don't have to be completely still like a statue, just make sure your movements are slow and unthreatening. The longer you sit quietly in this state, the more relaxed the birds will be and the closer to you they will come. You don't even have to tempt them with seed. If you take the time to become "part of the furniture" to them, they will just go about their business as if you are not even there.
Don't give them a reason to fear you and they won't.
3. Use A Pair Of Binoculars
This step is not completely necessary. Obviously, if you have birds coming close enough to you then a pair of binoculars is not something you will need. However, if you find the birds are just too far away to see clearly or you simply want a closer look, then purchasing a good pair of binoculars is something you should do.
Most birders will use 8×42 binoculars. These provide a good amount of magnification and also let in enough light to be able to be used in low light conditions. What does 8×42 mean?
The first number is magnification. Quite simply this means the binoculars will make anything you look at through them 8 times closer or larger. 8 times magnification is best for bird watching as it's not too much magnification.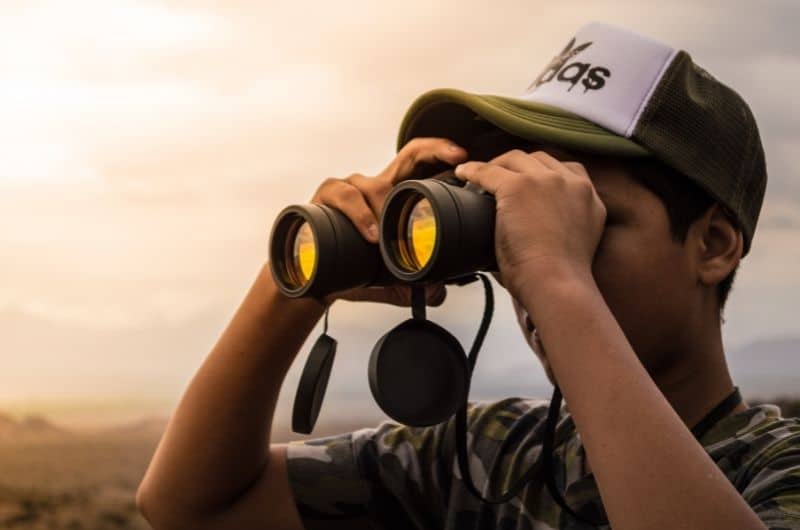 The more you zoom in on something, the more the movement of your arms and hands moves the image in the binocular. Anything bigger than 8x will result in a shaky image for a novice user. You can get binoculars with image stabilization that helps to eliminate this but these are quite expensive.
The 42 is the diameter (in millimeters) of the objective lenses or the lenses that are further away from your face. The larger the objective lenses, the bigger and heavier the binoculars will be. 42mm is a nice size to ensure enough light enters the binoculars but they are not too heavy.
Now I will recommend some binoculars in different price ranges. These are binoculars that are popular among birders and have good reviews on Amazon (all prices in US dollars):
Binocular
Check price
Celestron Outland 8×42



Amazon
Walmart
eBay
Nikon Prostaff 3S 8×42



Amazon
Adorama
eBay


Celestron Nature DX ED 8×42


Amazon
Adorama
Walmart
Vanguard Endeavor ED II 8×42


Amazon
Adorama
Walmart
Learn more about choosing binoculars for bird watching in this post here on my blog.
4. Use A Bird Book Or Bird App
Even if you don't start out curious about what birds you're looking at, you eventually will be. Birds are so varied and fascinating and it is fun to learn about them. Getting a decent bird field guide or birding app is something you may want to do.
A bird field guide is a book that contains pictures and information about bird species that you can find in your area. When looking for a field guide, you must make sure it includes species from your local area. Below are some books you might find useful (all prices in US dollars):
Book
Check price
RSPB Pocket
Guide to
British Birds



Amazon
Walmart
eBay
Pocket Guide to
the Birds of
Britain and
North-West Europe




Amazon
Walmart
eBay
The Sibley Guide To Birds



Amazon
Walmart
eBay
Kaufman Field Guide to the
Birds of North America




Amazon
eBay
The Australian Bird Guide



Amazon
Walmart
eBay
Field Guide To Australian Birds



Amazon
eBay
Birds Of India



Amazon
Walmart
eBay
The Book Of Indian Birds



Amazon
eBay
If you are reading this article from a country other than those listed above, simply go to Google and type in "bird field guide" and your location.
There are many great smartphone apps out there to identify birds from all over the world. The main one that I use is Merlin Bird ID by The Cornell Lab of Ornithology. This free app is available for iPhone and Android and contains over 7500 species from all over the world. You can even ID birds by photo or by their call.
Another good app is eBird also by The Cornell Lab of Ornithology. This is a free app though you do have to make an account with eBird using your email address. This app is more for recording sightings of species that you see. If you are planning on making a life list (a record of species you see over time) then this app is perfect.
5. Install A Bird Feeder
Disclaimer – here at Birdwatch World I do not support the feeding of wild birds. Feeding wild birds can lead to malnutrition, negative behavioral changes, imbalances in species populations, and other unfavorable occurrences. I do however respect your decision to feed them if you decide to do so.
While I am not an advocate for feeding wild birds, this can be an option for both bringing birds to your home and also getting them to trust you. Feeding them also keeps them coming back so that is a bonus.
Please do your research into what you can feed the birds in your local area. A lot of foods that we eat (including bread) are not suitable for birds so you need to make sure that you source the correct seed to put out for them. A simple call to your local Vet or pet store will get you all the answers you need.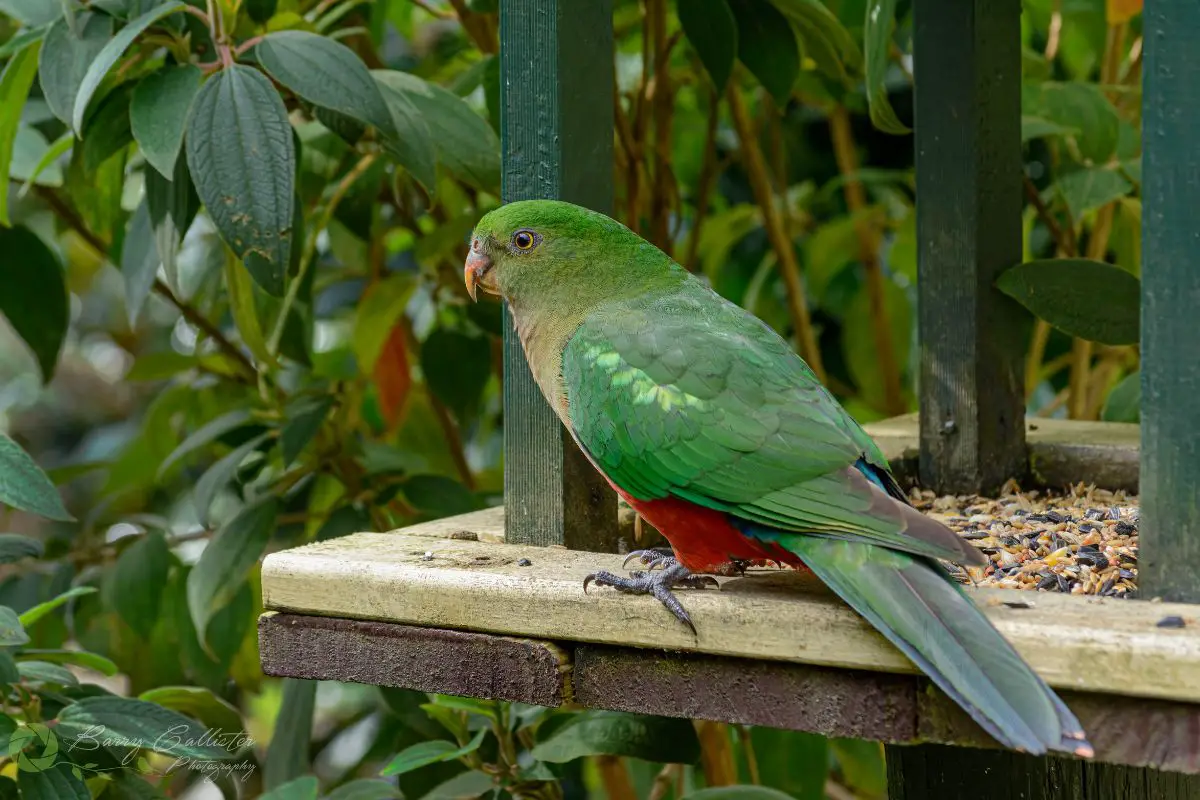 Once you have some seed, you need something to put it in. You can choose to make your own feeder from recycled materials, such as these easy-to-make pine cone feeders from Preschool Inspirations. More great feeder ideas using recycled materials can be found in this post from Weird, Unsocialized Homeschoolers.
There is an endless array of ideas for feeders to find by doing a simple search on Pinterest.com.
If you are not the handy type and just want to buy a feeder, here are some great ones you can find on Amazon (all prices in US dollars):
Feeder
Check price
Kettle Moraine Cedar
Bird Feeder
Single Cake


Amazon
eBay
Woodlink Going
Green Platform
Bird Feeder


Amazon
Walmart
eBay
Kettle Moraine
Super Oriole
Recycled Feeder


Amazon
eBay
There are many more feeders available on Amazon, or you can go to your local pet store or hardware store and they should have some.
You want to hang your bird feeder in a place where it will be safe from cats and other predators, the birds won't use it if they feel threatened. Hang it at around eye level or a little above.
Make sure that you keep your bird feeder clean. You want to remove old seeds, hulls, and bird droppings about every two weeks. You can use soap and boiling water or a diluted bleach solution. The Cornell Lab of Ornithology has a post about how to clean your bird feeder.
Seeds, hulls, and bird poop can get moldy if left lying in your feeder and this can make birds sick. Keeping it clean is very important. It's also important to clean the feeder if you notice a sick bird using it at any time, you don't want diseases spreading.
6. Install A Pond Or Birdbath
Birds love water. They love to bathe in it, eat the bugs it attracts and of course, they need to drink it. Installing a pond or birdbath in your garden is a great way to attract birds for birdwatching.
A pond can be as simple as digging a hole in your yard, lining it with black Polythene film, and filling it with water. This is another instance where you need to make sure you protect the birds from predators. If you have a cat, be sure it can't get at the pond.
You can line your pond with rocks and plant some plants around it to make it look nice and also attract birds. It will not be long before a whole host of birds finds your pond and use it to bathe and splash around in.
A birdbath is a simpler alternative to a pond. Birdbaths are aesthetically pleasing and birds just love them. You could also consider a hanging birdbath and put it up near your feeder. Below are some popular birdbaths from Amazon (all prices in US dollars):
Birdbath
Check current price
VCUTEKA Hanging Glass Birdbath


Amazon
Walmart
eBay
Outdoor Standing Birdbath


Amazon
Walmart
eBay
Sunnydaze Outdoor Ceramic Birdbath


Sunnydaze Decor
If you don't want to spend the money, you can make your own birdbath quite easily. You can fashion a birdbath out of pretty much anything that will hold water. Check out 12 Fun and Easy Birdbath Ideas from Remodelaholic.
Just like your feeder, you want to make sure that your birdbath is kept clean and always has fresh water.
7. Plant Native Plants
If you have a yard or garden, you can plant some native plants that will attract the birds you would like to see. Plants are a fantastic way to bring birds into your garden as they provide food and shelter for the birds. If you decide to photograph the birds as well as just watch them, plants provide a great backdrop that will make your photos look better.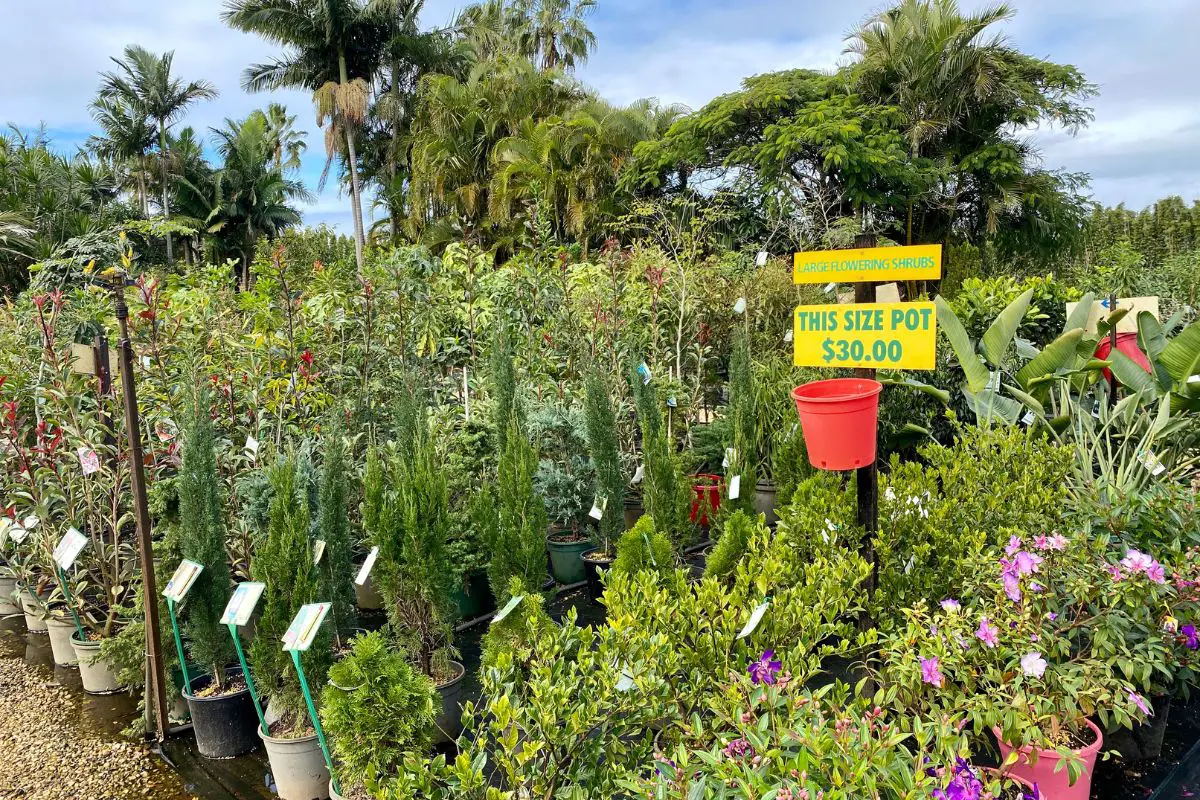 It's a great idea to plant plants that are native to your area. These types of plants have adapted over thousands of years to local rainfall patterns and soil conditions, and they are also what birds would feed on in the wild. Natives also require less maintenance and fertilizer than exotic varieties.
There are a few things you want to consider before planning your garden:
How much room do you have?
You want to make sure you don't plant anything too big for the space you have. Plants look small in the nursery but they can grow large under the right conditions. Crowding plants can lead to more pruning and also encourage diseases.
What does each plant have to offer your garden?
You want the birds to be attracted to and also enjoy the plant but you need to appreciate it too. You should consider things like colorful flowers, leaf color, and also how the seasons will affect the plants you buy.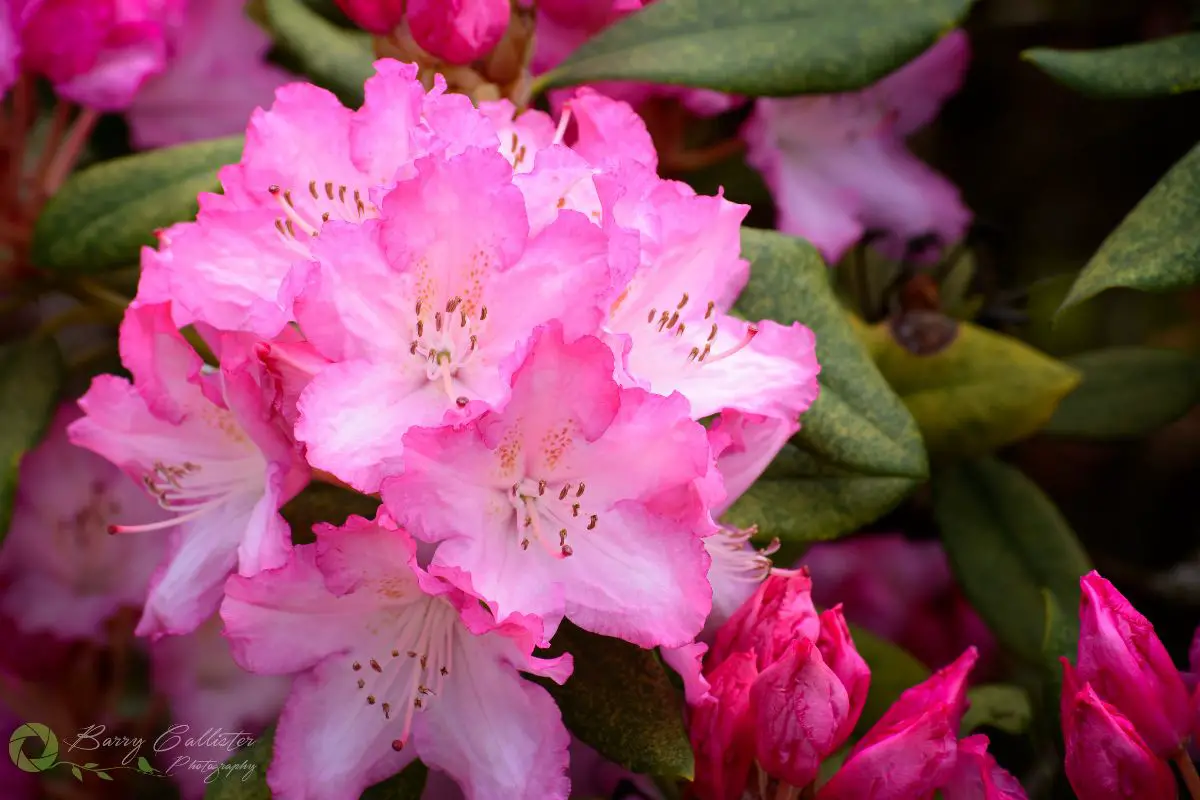 Are pests and diseases a problem?
This is something to consider if you want a low-maintenance garden. Obviously, most plant diseases can be treated with little problem. Just be aware that you will have to do the work to keep these plants healthy for you and the birds.
8. Install Bird Houses
To make your birdwatching from home experience a bit more exciting, you might consider installing some birdhouses. These will give birds a place to roost and possibly nest. In addition to this, they are a great place for birds to hide from predators.
Making your own birdhouses is easy if you're good with a hammer and nails, you can find many plans on Pinterest. Consider YouTube videos for step-by-step videos too.
In case you're not the handy type, here is a list of some birdhouses you can buy online (all prices in US dollars):
Birdhouse
Check current price
Panacea Cedar Birdhouse


Amazon
Walmart
eBay
Kettle Moraine Recycled Birdhouse


Amazon
eBay
Bread is one thing you should not feed birds. Find out why in this article.
9. Pick The Right Times
Depending on where you live, you can pretty much see birds in your garden any time of the day. There are however times when there will be more birds and they will be more active. Dawn and dusk are the best times for bird watching.
Just after dawn birds are more active as they have been sleeping most of the night and now need to fuel up and get ready for the day. They will be busy flying about looking for something to eat. An added bonus about bird watching just after dawn is the light is incredible. You get that warm, rich light that just makes everything look amazing.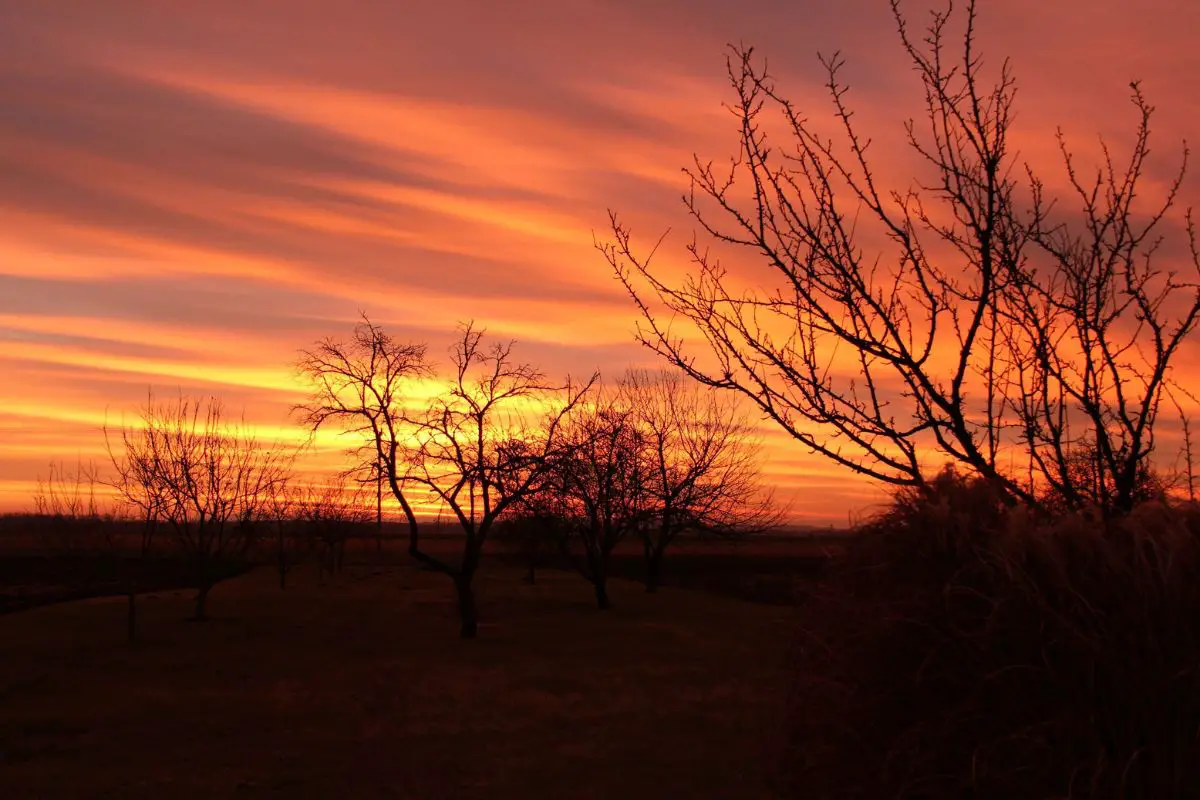 Around mid-afternoon to dusk is when birds get busy again. They need to fill their stomachs to get through the night so they go out in search of food. The light at this time of day is also amazing.
You can enjoy birdwatching at any time of the day but if you go out after dawn and before sunset, you will be rewarded with more birds and stunning light.