When you think of birds of paradise, it might bring up images of the dense tropical jungles of Papua New Guinea from David Attenborough documentaries. You may imagine having to spend weeks trekking through impenetrable wilderness or days spent in a hide deep in the forest to spot these stunning birds. Fear not, there are places in Australia where you can see birds of paradise, and you don't have to trek for days to do so.
You can see birds of paradise in Australia on the Cape York Peninsula as well as in certain parts of the east coast of New South Wales and Queensland. Four different species of birds of paradise can be found in Australia. They live in various types of forests and mangroves from sea level up to 1200m.
Read on to discover more about the different species of birds of paradise that are found in Australia. I will introduce you to the four species and explain where each can be found.
As an Amazon Associate, I earn from qualifying purchases. Birdwatch World earns commissions from Amazon and similar affiliate programs from any purchases made via links in this article.
Birds Of Paradise Species In Australia
There are 42 species of birds of paradise. Not all of them are brightly colored or have elaborate feathers like those in the documentaries. Let's meet the four Australian species…
1. Trumpet Manucode
Of the four species in this article, the trumpet manucode is one of the prettiest. The males have brilliant green-blue iridescent plumage that takes on a violet-purple sheen near their crowns. Females are similar to males though slightly duller on their underparts.
Another striking feature of these birds is their irises; red in males and more orange in females.
Male trumpet manucodes are around 31 cm (12.2 in.) in length, and females are about 28 cm (11 in.). They live in the interior of lowland rainforests, hill forests, and montane forests. They can be found on the edges of the rainforest in the Kutini Payamu (Iron Range) National Park around the Rangers station according to Gary whom I spoke to on the phone.
Below are the sounds to listen out for when searching for these birds:
Where To Find Trumpet Manucodes In Australia
The range of the trumpet manucode can be seen below:
Looking at sighing data from eBird and also where the audio recordings on xeno-canto were made, it appears the best place to find these birds is the Kutini Payamu (Iron Range) National Park.
The latest sighting on eBird was recorded on the 29th of August 2022 at the Gordon Creek crossing in Cook, Qld. This bird was seen and photographed on a Sicklebill Safari birding tour. A magnificent riflebird, another bird of paradise featured in this article, was also seen on that day.
Various audio recordings have been made of these birds in that same national park.
Another area where you can find trumpet manucodes is shown on this map. This information was given to me by the Community Education Manager at Queensland Parks and Wildlife Service.
The roads into and within the Kutini Payamu National Park are for 4WD vehicles only. The roads and campgrounds are not suitable for caravans. Do not expect to be able to drive in after Christmas or before Anzac Day as the rivers become swollen during the wet season and access is not possible.
---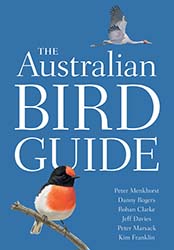 I used the Australian Bird Guide Revised Edition to gather information for this article. This is a trusted field guide I use often here at Birdwatch World. You can get more information about it and check the latest pricing from Amazon, Walmart, or eBay via the button below:

---
2. Paradise Riflebird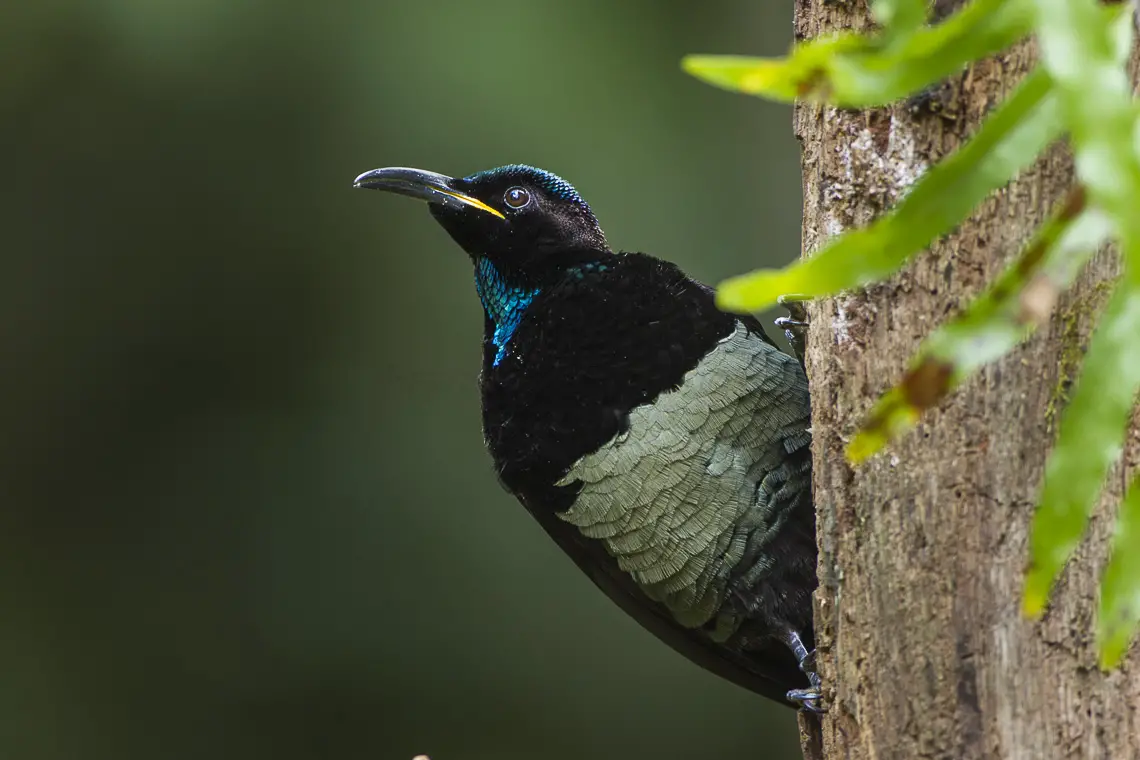 Paradise riflebird males are velvety jet-black with iridescent sheens of purple-magenta. Their stand-out feature is their throat and upper breast that is adorned with scale-like metallic greenish-blue feathers. The inside of their mouths is a bright yellow to lime-yellow.
Females are smaller than males and brown to greyish-brown; a vast contrast to the vibrant colors of the male birds. Immature male birds have plumage similar to females.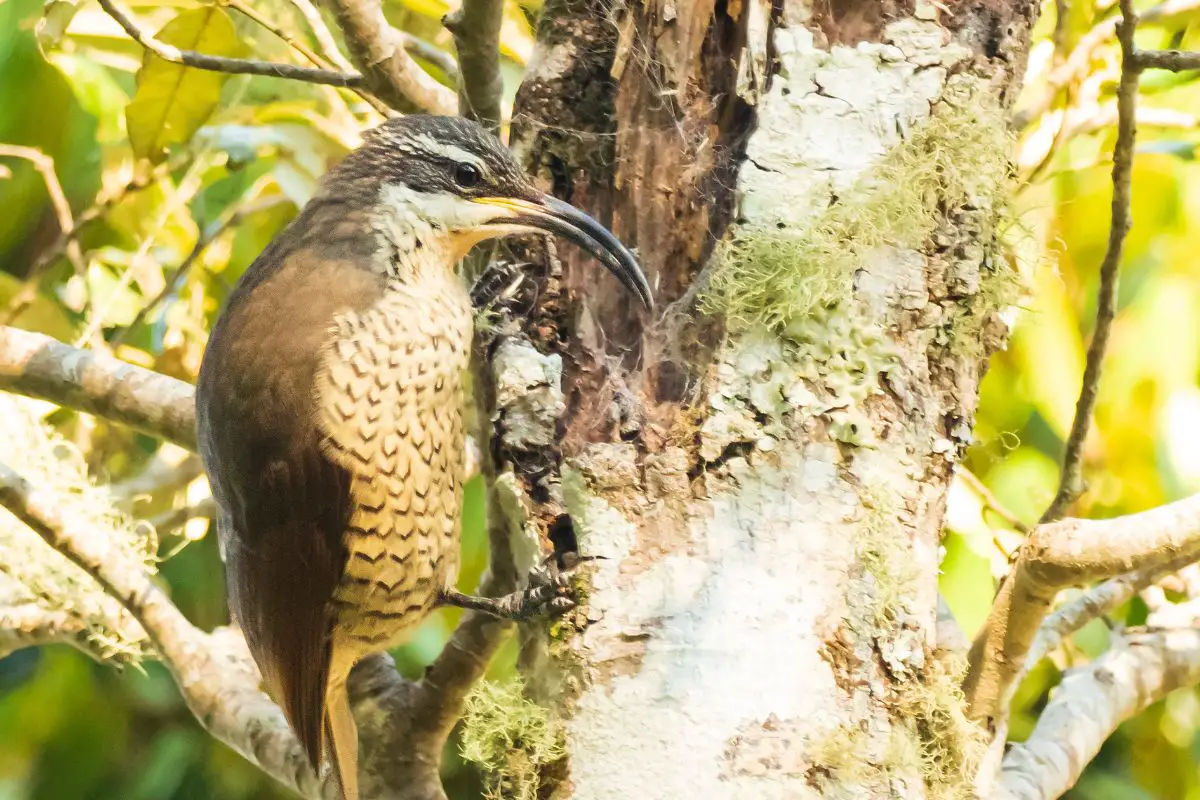 Learn about the types of parrots that live in Australia in this article on my blog.
Paradise riflebirds are around the same size as trumpet manucodes; males are 30 cm (11.8 in.) and females measure 29 cm (11.4 in.) in length.
Subtropical and temperate rainforests provide a home for these birds. They are mostly found above 500 m (1640 ft) but during the winter can sometimes be seen at sea level.
Listen below for the call of paradise riflebirds:
Where To Find Paradise Riflebirds In Australia
Paradise riflebirds can be found on the east coast of Australia from northeast New South Wales to southern Queensland. The map below shows their range:
As recently as the 16th of September 2022, a female paradise riflebird was seen at the visitor center of Dorrigo National Park in New South Wales.
Lamington National Park in southeast Queensland seems to be a good place to spot them also. A sighting of a male was recorded at O'Reilly's Rainforest Retreat in Canungra, QLD on the 11th of September 2022. Another male bird was photographed on the 4th of August.
For recent sightings, or to be updated when one is sighted, download the eBird app.
3. Victoria's Riflebird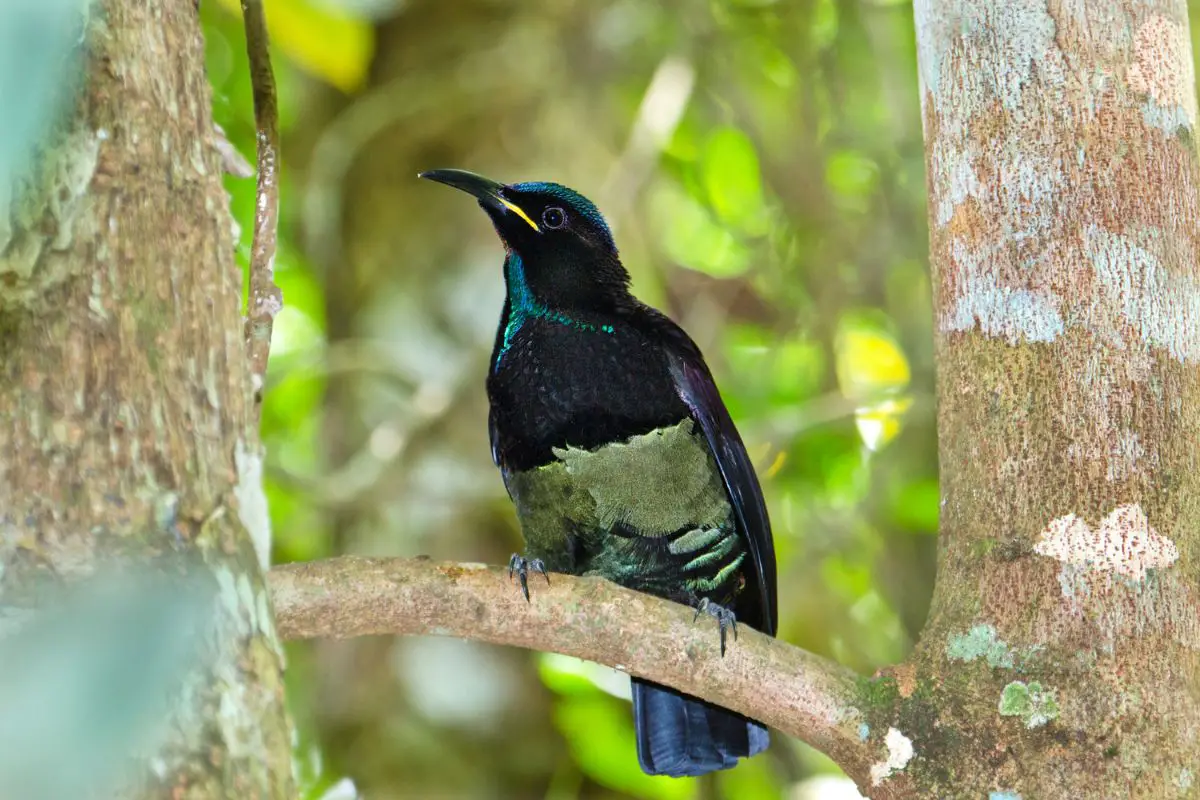 At first glance, it's easy to confuse this bird with the paradise riflebird. There are differences however and you only have to see them side-by-side to notice them.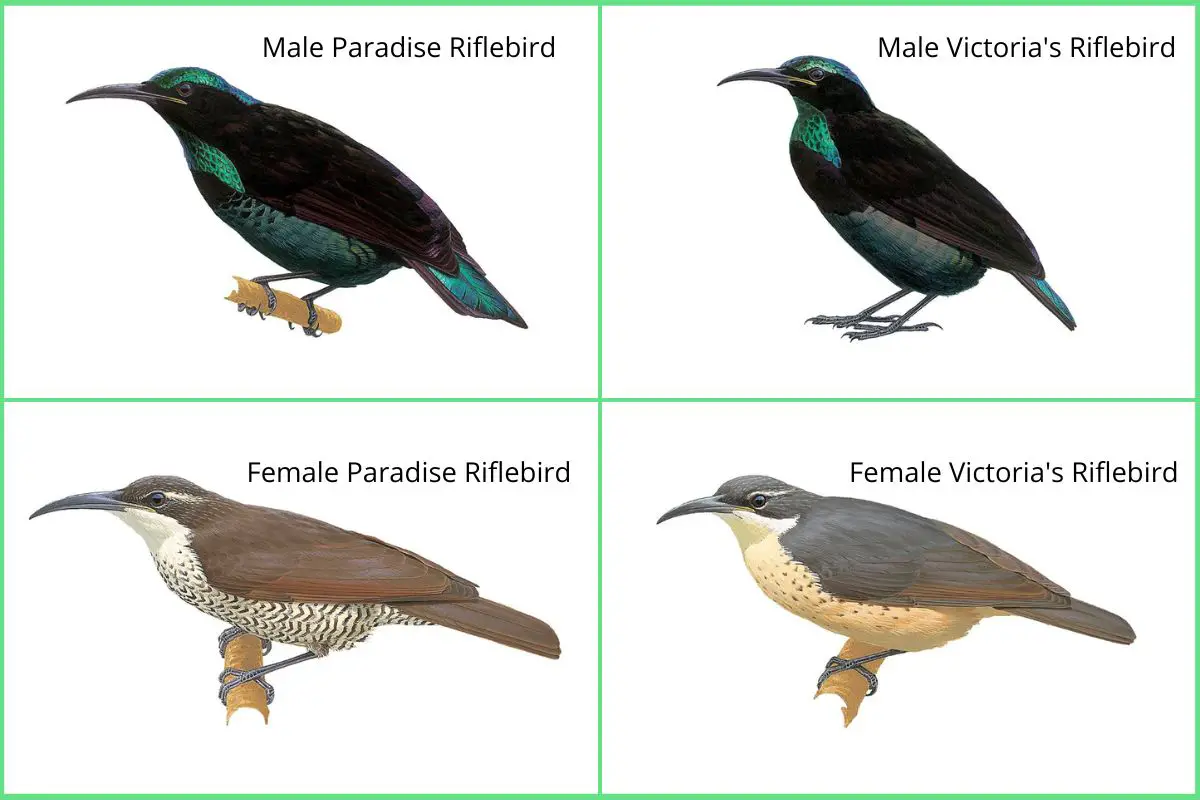 Discover Australia's smallest bird in this post here on my blog.
Male victoria's riflebirds are smaller than paradise riflebirds at around 25 cm (9.8 in.). The other obvious difference is their belly feathers which are more uniformly green on victoria's riflebirds; lacking the black mottling. Male victoria's riflebirds also have a larger breast shield than male paradise riflebirds.
The females are easier to tell apart as their coloring is quite different. Female paradise riflebirds have creamy underparts with dark brown scaling, whereas victoria's riflebird females have more cinnamon-colored underparts and less scaling. Their upper feathers are also different in color, being browner on the paradise riflebird and more gray on the victoria's riflebird.
Where To Find Victoria's Riflebirds In Australia
Victoria's riflebirds live in tropical rainforests from lowlands to uplands. They can occasionally be found in gardens and orchards also. They are found in Queensland within the range indicated on the map below:
When searching for Victoria's riflebirds, listen out for their rasping calls:
A good place to spot victoria's riflebirds seems to be the Crater Lakes National Park in Lake Eacham, Queensland. Six birds were recorded there on the 19th of September 2022 and it is a hot spot for many other species with a total of 38 species observed so far this month.
I also contacted the Queensland Parks and Wildlife Service who told me that the ranger in charge of Paluma Range National Park said there are plenty of Victoria's Riflebirds in and around Paluma township, 85 km northwest of Townsville.
4. Magnificent Riflebird
Male magnificent riflebirds have a similar look to the previous two riflebirds we've looked at. They are however the largest, loudest, and most stunning riflebird. Males measure 34 cm (13.4 in.) in length, while females are around 28 cm (11 in.).
Their iridescent breast shields are their most prominent feature; greenish-blue and much larger than any other species. They also have a narrow stripe of yellow-green iridescent feathers bordering the lower part of their breast shields.
Female magnificent riflebirds are closer to the paradise riflebird in appearance. Their underparts are creamy colored with brown barring and they are brown to rufous above.
Where To Find Magnificent Riflebirds In Australia
These birds can be found in the lowland and foothill rainforests of Cape York Peninsula from Cape Melville National Park north to the very tip of the cape.
The sound to listen out for while searching for magnificent riflebirds can be heard below:
The Iron Range National Park where I suggest finding the trumpet manucode is where you can also find magnificent riflebirds. Sightings have been recorded on eBird in August of 2022. There was also a more recent sighting at The Greenhoose accommodation in Lockhart River on the 17th of September 2022.
You will find all the latest sighting information on the Explore page of ebird.org.
Conclusion
Now you know where to see birds of paradise in Australia. Get started planning a trip! I'm keen to start some planning of my own. I live in the range of the Paradise Riflebird so I will be keeping a keen eye out for them.
eBird is a fantastic tool to help you find out where you can see birds of any species. Creating an account with them is simple and free. With the Aussie Bird Count coming up on the 17th of October, I suggest creating an account now to make sure you are ready to take part.
Thank you for reading this article today. Get out there and do some birding!
Where To See Birds Of Paradise In Australia References
---