There is nothing quite like a birdbath to bring birds into your yard. They love to drink from it and splash around in it to cool down and spruce themselves up. In this post, I'm going to present you with 10 bird bath ideas that will have the birds flocking to your yard.
I realize that some of you may be hands-on and others not so much, so I have split the post into 50% DIY baths and 50% baths you can buy. Before we get into the list, let's look at some important requirements for birdbaths.
As an Amazon Associate, I earn from qualifying purchases. Birdwatch World earns commissions from Amazon and similar affiliate programs from any purchases made via links in this article.
How Deep Should A Birdbath Be?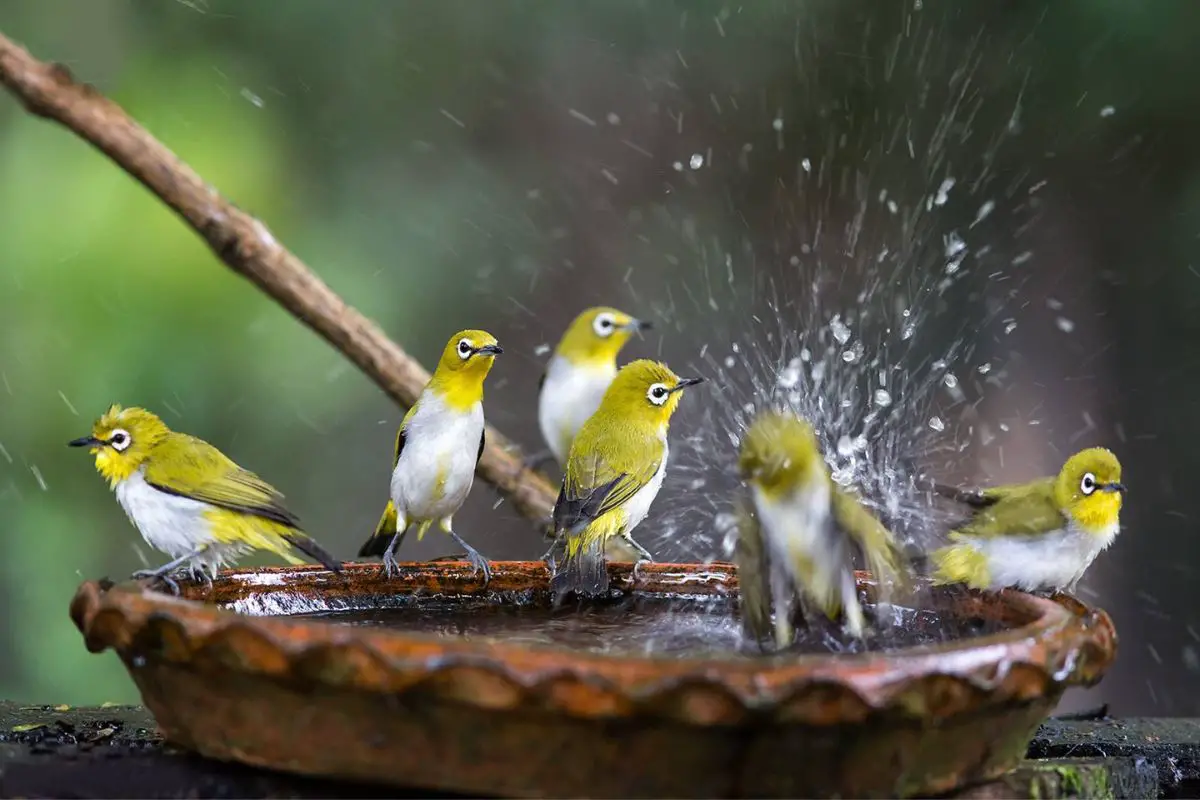 A birdbath should be 1-4 inches (2.5-10cms) deep and provide a sloping edge to allow birds to enter safely. Depths in these ranges will allow different species to make use of the birdbath. If it is too deep, small birds will not use it as they will most likely drown.
The above recommendation comes from this article by the RSPB.
If the vessel you decide to use for any of the DIY projects in this article is too deep, consider putting some stones in to create shallow entry and exit points for smaller birds.
What Type Of Birdbath Do Birds Like?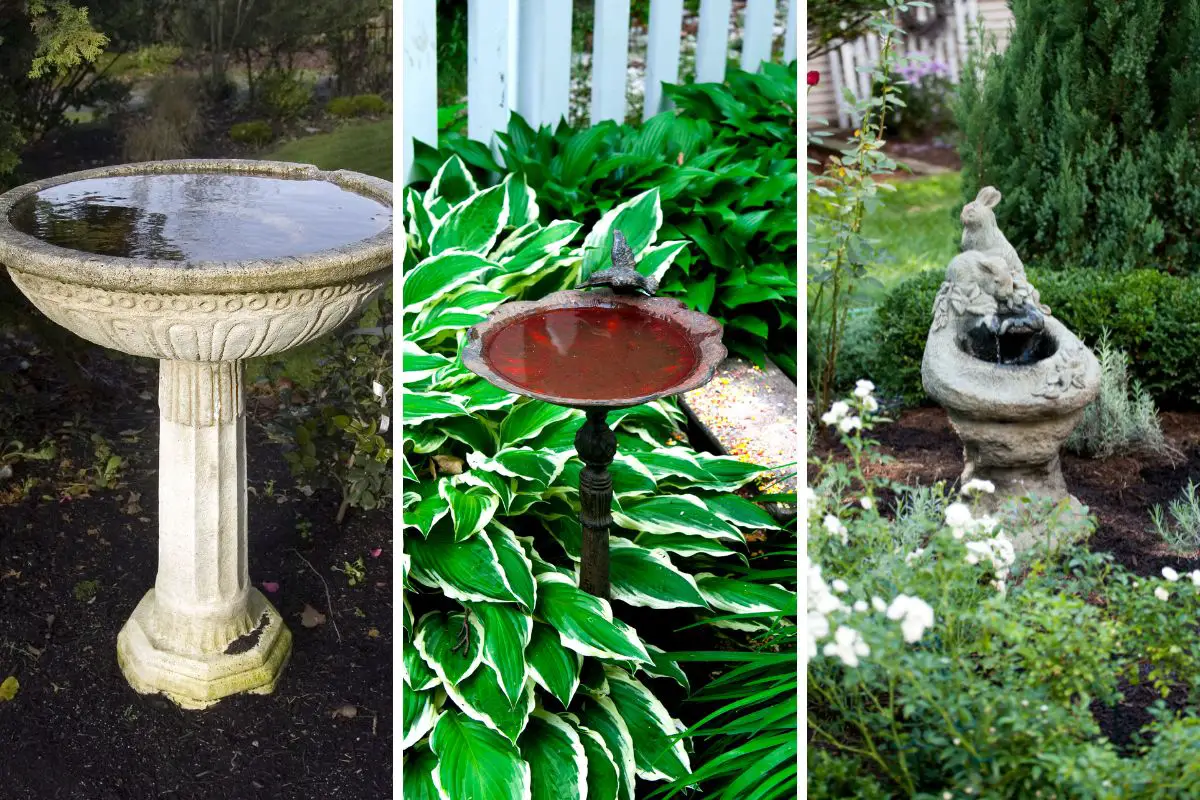 According to Mike O'Conner, owner of the Bird Watcher's General Store in Orleans, MA, USA, the best material for a birdbath is concrete or stone. A lot of people go for glazed or glass baths because they are prettier and easier to clean. The problem with these baths however is that they're slippery and birds simply don't like them.
Make sure that you go for a birdbath that has a rough texture so the birds can have something to grip onto. Yes, it may be harder to clean but the birds will love you for it.
Discover when birds are most active at feeders in this article here on my blog.
What Is The Best Color?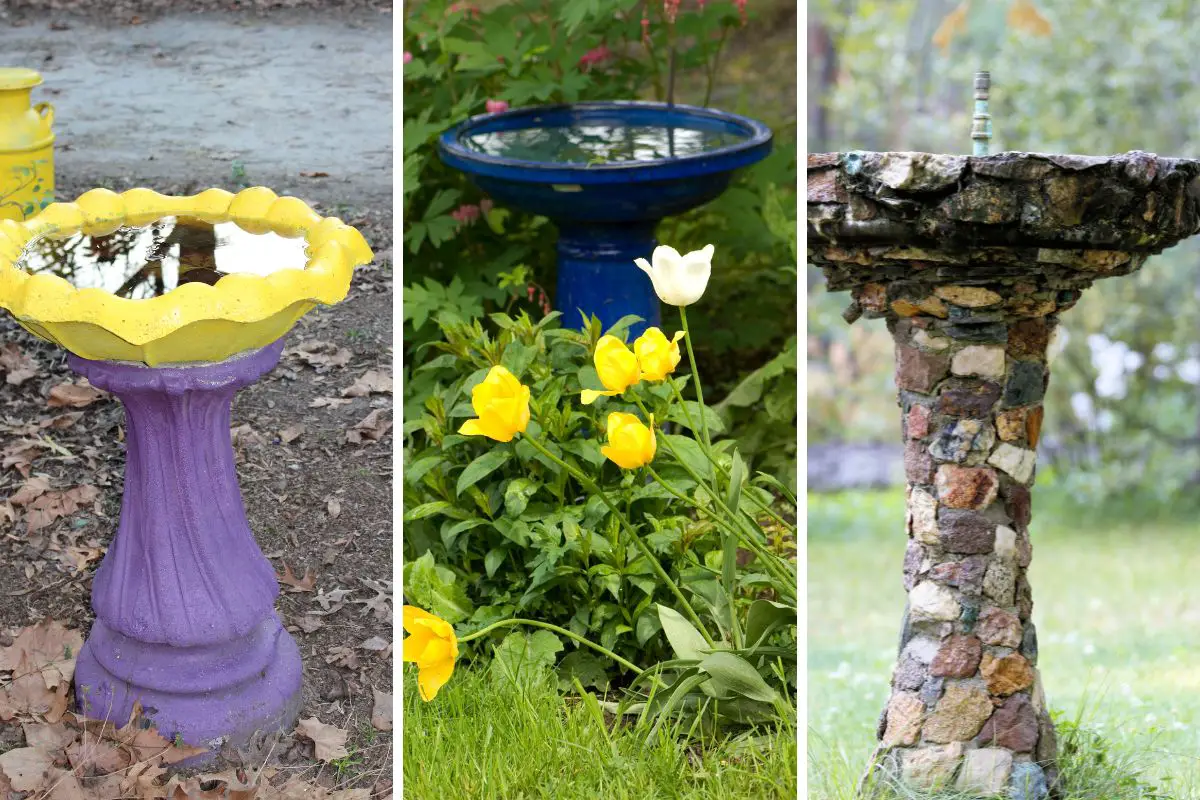 The best color for a birdbath is red. Birds are drawn to red flowers as Bees and Butterflies do not feed on them, leaving nectar for birds to eat. Likewise, they will be drawn to a red birdbath. Birds will also be enticed by colors in their feathers as they allow them to camouflage while in the bath.
Of course, the mere fact there is water in the birdbath is going to attract birds but color also seems to have some effect. Studies were done by the British Trust for Ornithology using bird feeders of differing colors. During Summer trials, the most popular colors were blue, followed by dark blue, dark green, burgundy, silver, and then red.
The Winter tests delivered different results with the favorite colors being silver, followed by blue, red, and then dark green. From this, you might say that the color that will attract the most birds may be dependent upon the location, time of year, and bird species.
Find out where birds go at night in the winter by reading this article here on my blog.
Most information online seems to point to red being a favorite with a lot of birds. Red cars seem to attract the most bird poo at any rate! Steer clear of white however as it seems to scare birds away.
The color does not seem to be as important as where the birdbath is placed, and the depth of the water.
Let's get into the list…
1. Terracotta Pot Birdbath (DIY)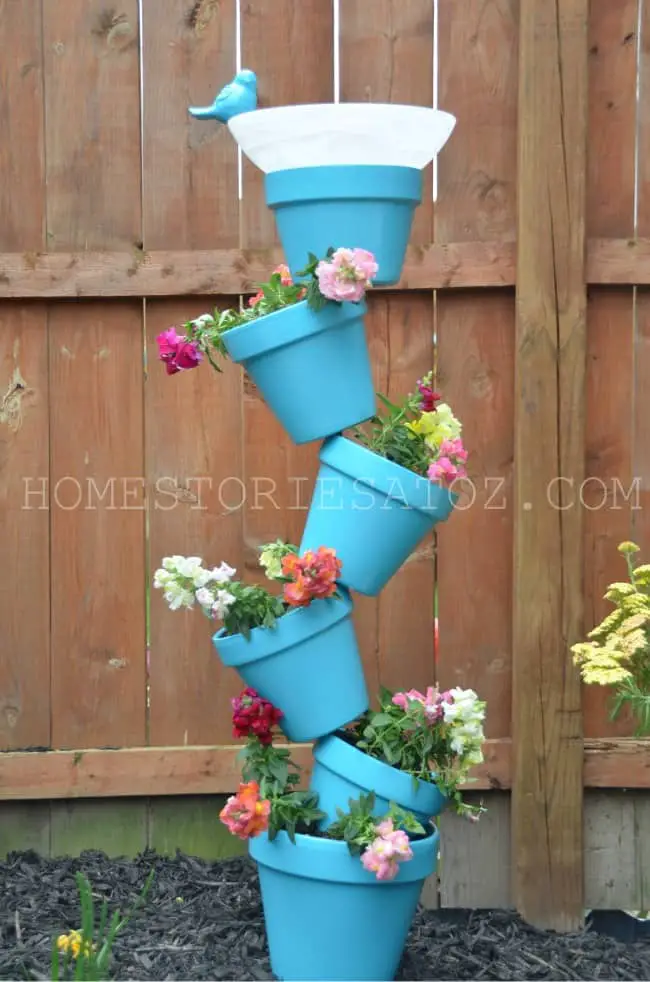 This first bath is a DIY project you will love. It's a birdbath and planter all-in-one and easy to put together!
All you have to do is stack terracotta pots on top of each other over a length of rebar that's driven into the ground. You then put a bowl or old light fixture on top, garnish with a little ceramic bird (optional), plant it out with your choice of plants and you're done!
It looks great and once filled will provide the birds with not just a water source but also some nectar from the flowers below. You can give this birdbath your own flare with the colors you use, the style of bowl you choose, and the plants you put into the pots. Go crazy and turn it into a work of art right there in your garden!
All supplies and directions can be found in this article from Home Stories A to Z.
2. Kante Weathered Concrete Lightweight Traditional Birdbath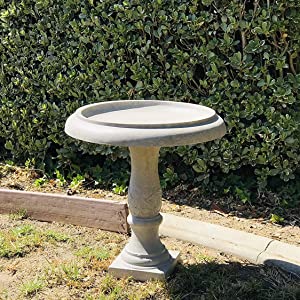 This bath has the perfect dimensions; the bowl is 22.8″ (57.91cm) across and just 2.6″ (6.6cm) deep. Made from concrete and weather-resistant fiberglass, it weighs just 31.8 pounds (14.42kg), a fraction of what it would weigh if made solely from concrete. The base is 8.7″ (22.1cm) square and the pedestal is 21.9″ (55.6cm) high.
If you are planning on putting a solar fountain pump into your birdbath, which is a great idea to create some movement in the water, this bath may not be suitable. A lot of the reviews on Amazon state that it was simply too shallow for a pump to work effectively.
This bath is currently selling for 104.50 USD on Amazon.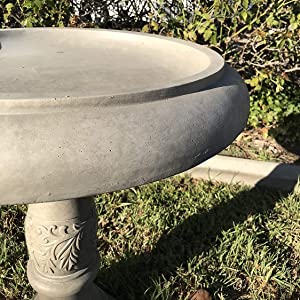 You can check the current price on Amazon by clicking on either of the images above.
3. Bowl And Pipe Flange Bath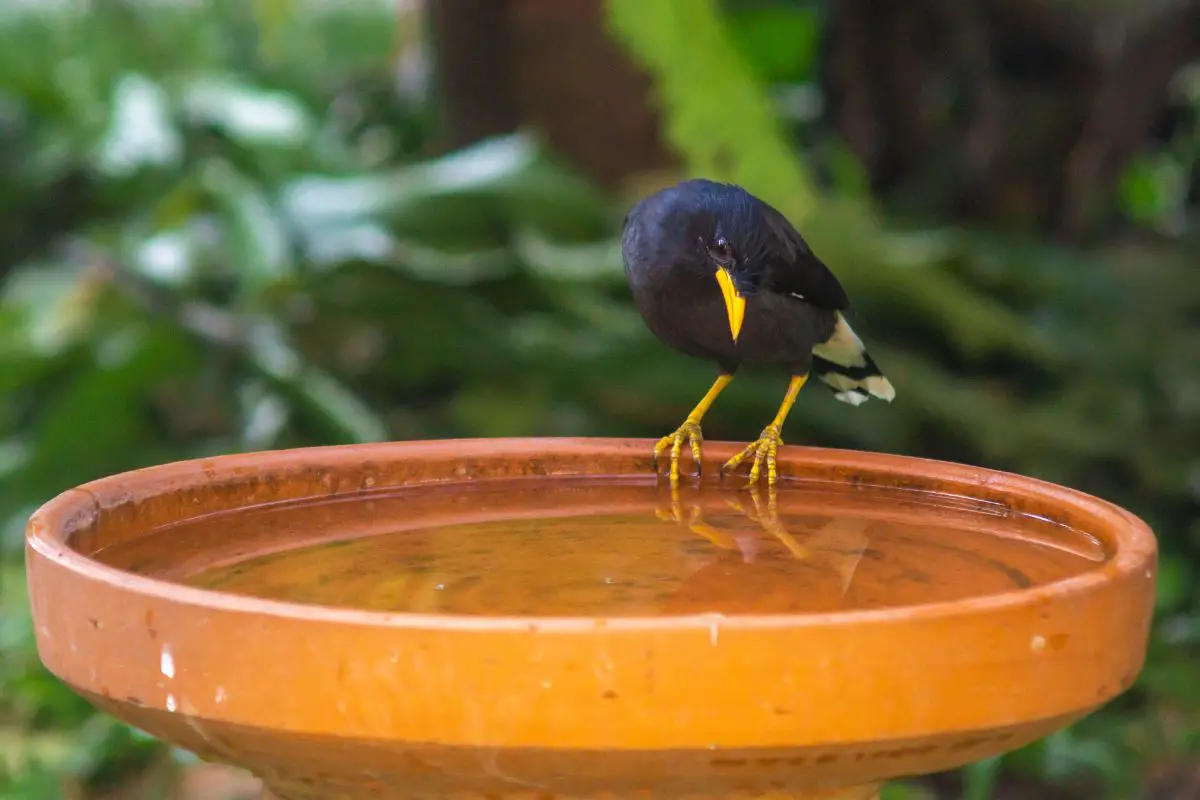 This birdbath is such a simple design but looks fantastic. The birds will adore this one.
You only need 8 items to put this together. It's constructed from a serving bowl secured to a threaded cast iron pipe by a flange. This birdbath can be positioned anywhere in your garden where you can drive the pipe into the ground.
When choosing your serving bowl, make sure that it's not too deep. The other thing you might have to deal with is the smoothness of the inside of the bowl. One way of getting around this might be to glue some pebbles to the inside of the bowl with brick cement.
You can find all supplies and instructions for this one here on Darning Diva's blog.
4. Sunnydaze 2-Tier Outdoor Birdbath With Water Fountain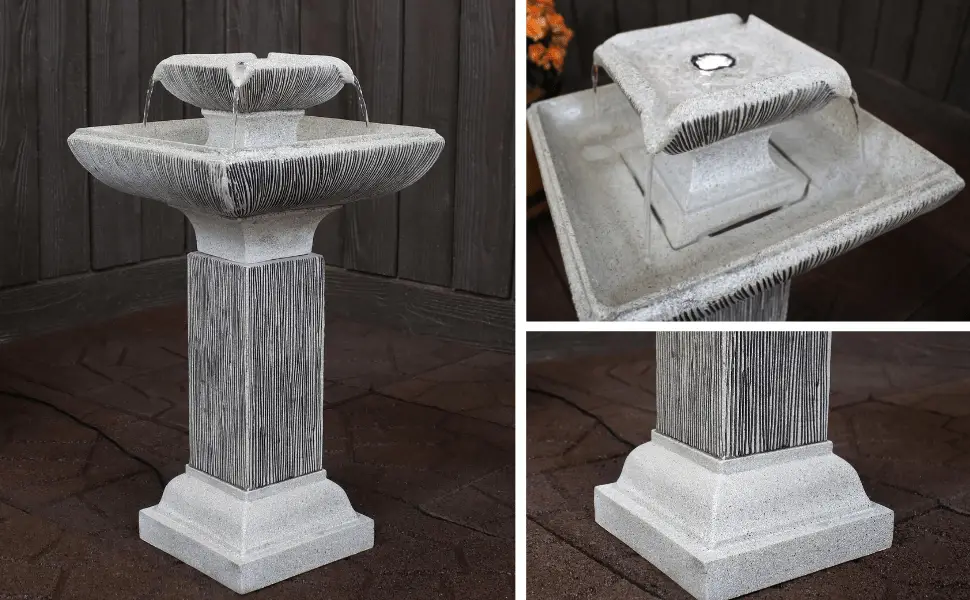 This stylish birdbath will look fantastic in any modern garden and the birds will love it. Its two-tier design and adjustable flow rate 12V AC-60Hz 2.5W pump allow water to flow over from the top tier to the bottom tier. Birds love moving water and will have a great time in this bath.
The top tier is 5.75″ (14.6cm) square and 1.25″ (3.18cm) deep. The bottom tier is 13.25″ (33.67cm) square and 2.75″ (6.99cm) deep. The overall height of the bath is 22.5″ (57.2cm).
This bath also features an LED light to make this a standout feature in your garden at nighttime.
Made from durable resin, the edges of the bath have a rough texture that birds will be able to grip.
This bath is currently selling for $225 USD on Amazon.
5. Stacked Stone Bird Baths
I absolutely love this idea, these look so good! I'll be installing one of these myself.
All you need for this is some large stones and an old galvanized trash can lid or anything else that will hold water. Again, make sure that it has a rough texture so the birds can get a solid grip on it.
Simply stack the stones up securely and place the garbage can lid on top, weighted down with another stone.
If you want to make it a bit more secure, you could try some brick cement or ordinary cement to hold it all together.
One thing I will say about this method is to make sure the stacks are high enough to keep the birds safe from predators. This will be especially important if you have pets like dogs or cats.
One more thing to remember about these baths is the metal can get hot in the sun. If you use garbage can lids, make sure you place them in the shade, especially in the warmer months.
For inspiration and tips about this method read this post from Our Fairfield Home and Garden.
6. Sunnydaze Grecian Column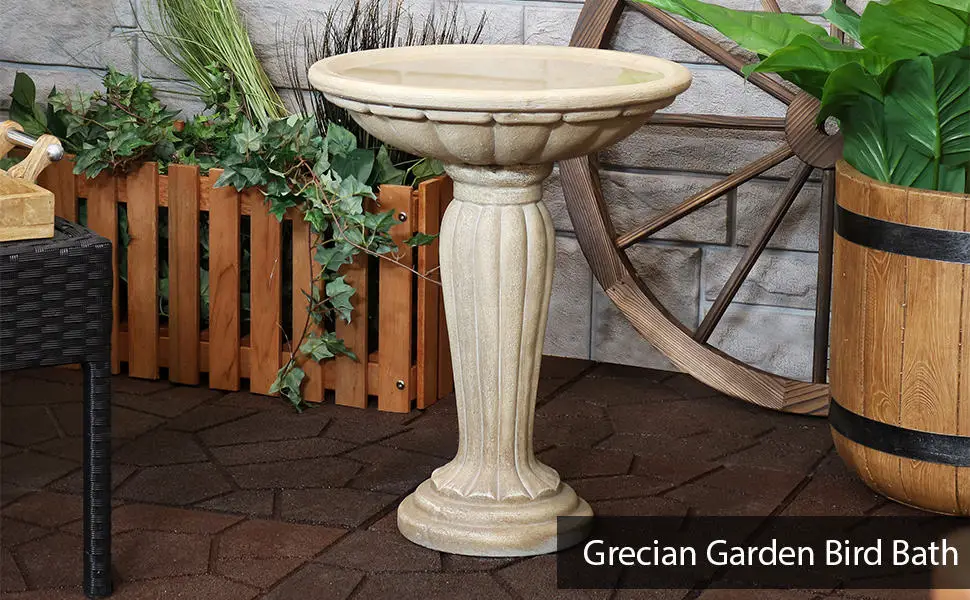 This is another great birdbath from Sunnydaze. Made from durable glass fiber reinforced concrete and coated with a protective sealant to prevent water absorption.
A stunning Grecian-style bath that stands 20.25″ (51.4cm) high with a 2″ (5cm) deep bowl. The column is 16.75″ (42.5cm) tall and the base has a diameter of 8.75″ (22.2cm). The whole thing weighs 14.2 pounds (6.4kg) which is fairly lightweight, making it a bit easier to move around if you have to.
The birds will be able to get a nice grip on the rough surface of this birdbath and it's the right depth for even the smallest of birds.
Sunnydaze mainly ships within the 48 Contiguous United States and Canada but does offer international shipping on some items, you simply need to contact them.
This bath is currently selling for $125 USD on the Sunnydaze Decor website.
7. Terracotta Saucer and Wreath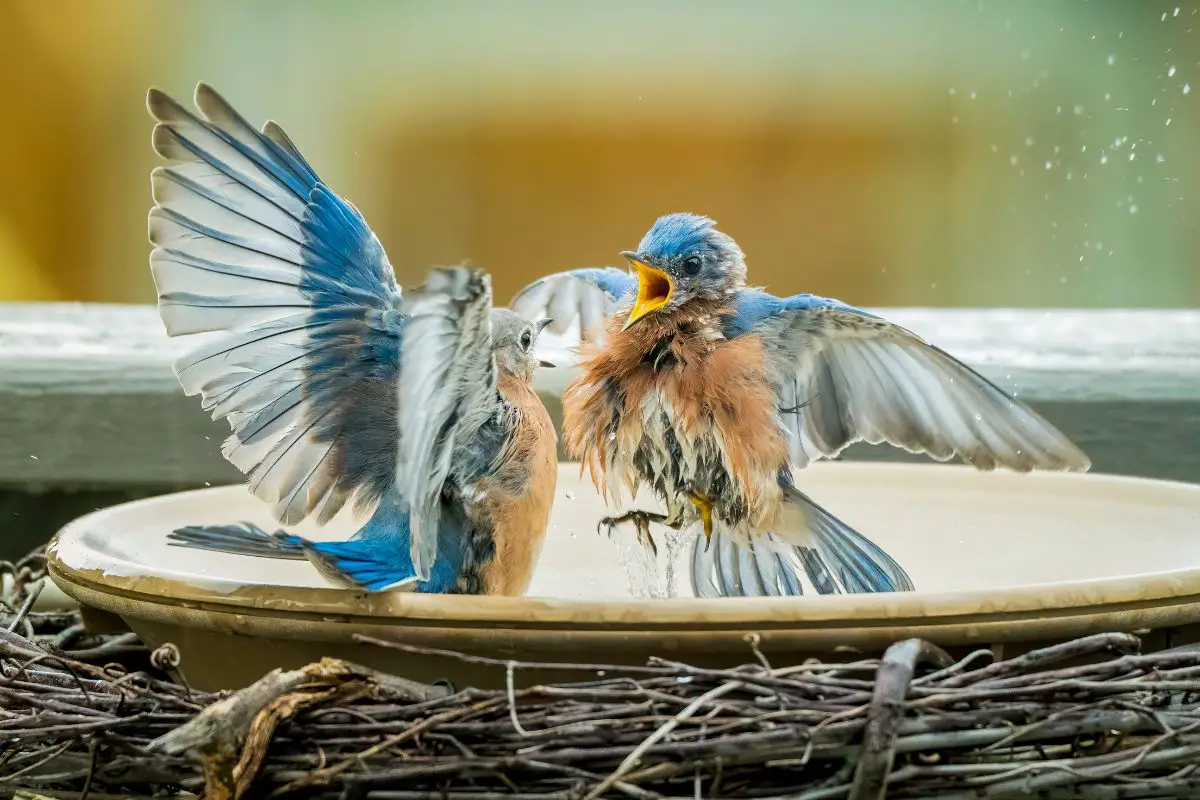 This is a great project to do with the kids and the result looks fantastic.
All you need for this one is a terracotta saucer, a grapevine wreath, some twine, sealant, and some acrylic paint to create your own artwork on the saucer.
You could make multiple versions of these baths and hang them from various trees in your garden. Hang them close to any feeders you have so the birds can get a snack and a bath in the same location.
All supplies and instructions can be found here on mommyhobbies.com.
8. Sunnydaze Simply Square Concrete Birdbath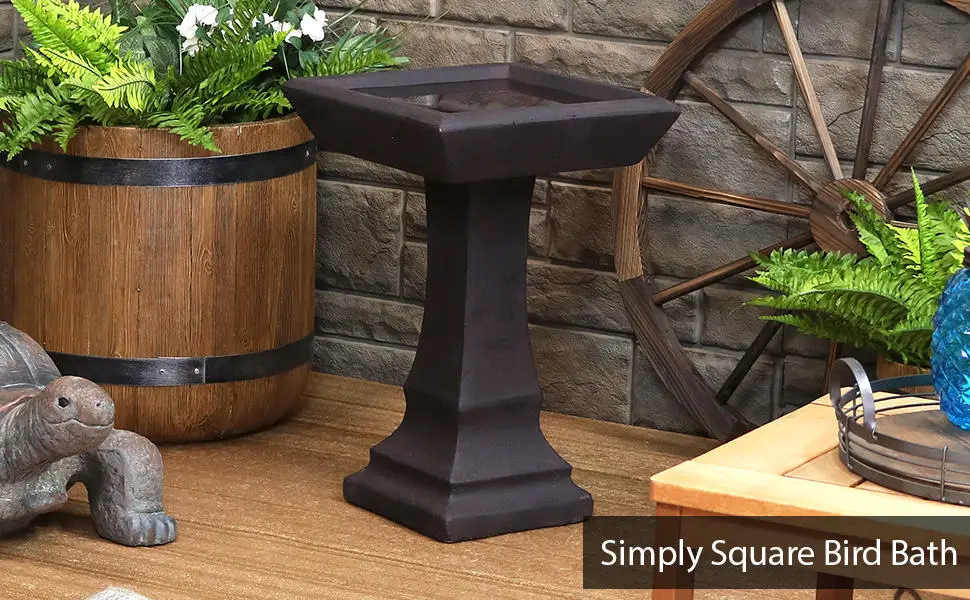 Sunnydaze has done it again with this stylish square concrete birdbath. Just like the Grecian bath above, this one is made from durable fiberglass-reinforced concrete and coated with a protective sealant.
This one is slightly taller than the Grecian at 23″ (58.4cm) and also a bit deeper at 2.25″ (5.7cm). This bath has a sturdy 9.5″ (24.1cm) base that will securely support the bowl which is 15.25″ (38.7cm) square. It is heavier than the Grecian at 20.2 pounds (9.2kg) but still much lighter than a solid concrete bath would be.
The dark brown color of this birdbath will fit nicely with your garden and provide birds with darker feathers with a nice bit of camouflage.
This bath is currently selling for $149 USD on the Sunnydaze Decor website.
9. Stepladder Birdbath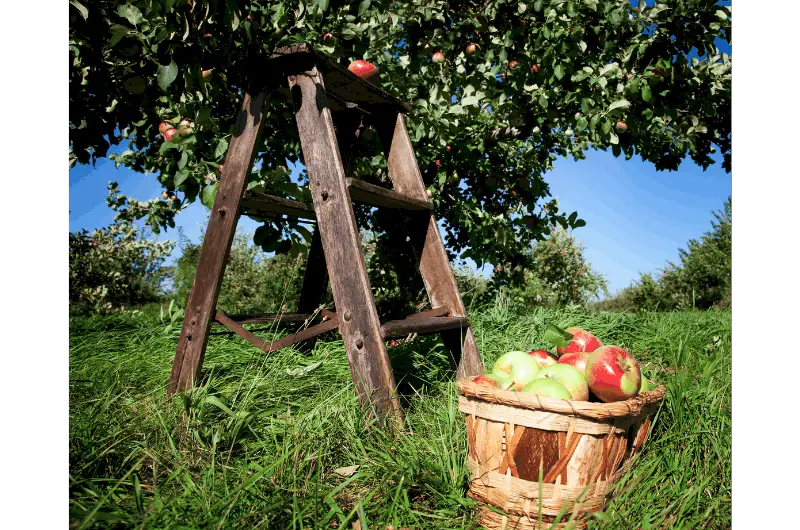 Do you have an old wooden stepladder lying around? If not, go and find one from somewhere because this birdbath idea is great and looks amazing?!
For this project, you can again use a terracotta bowl or some other kind of shallow bowl. Kelly Elko from kellyelko.com also used some rocks in her terracotta bowl for this and it looks great.
There's really nothing much to do with this birdbath, all you need is an old ladder (you could even use an old stool for this) the terracotta saucer or bowl, and some potplants to place on the steps of the ladder. The older and more weathered your stepladder is the better, it all adds to the charm.
If you want to get creative with this, you could try painting your step ladder or even growing some kind of vine or creeper up the legs of the ladder to blend it in with the environment more. Just use your imagination…
See the results of this cool birdbath idea here on Kelly's blog.
10. Sunnydaze Façade du Soleil Birdbath
I'm sticking with Sunnydaze birdbaths here because they really do make a great product. This decorative Façade du Soleil bath will look amazing in any garden and has that rough texture we want for the birds.
You can see the dimensions in the image below and that it has a nice large and shallow bowl. The face in the base of the bowl is a nice aesthetic touch.

This birdbath is made from glass fiber reinforced concrete (GFRC) and weather-sealed like the other Sunnydaze baths I have included in this article.
Heavier than most in this article, this bath tips the scales at 28.6 pounds (12.9kgs) so lift with your knees when moving this one around.
This bath is currently selling for 199 USD on the Sunnydaze Decor website.
Birdbath Weight And Cost Comparison
Below you will find a table comparing the birdbaths available to purchase above. This table is designed as a quick reference to help you decide which is the best bath for you:
Birdbath
Weight
Depth
Cost (USD)
Kante Weathered
Concrete
31.8 lb
(14.4kg)
2.6″
(6.6cm)
$104.50
Sunnydaze Grecian
Column
14.2 lb
(6.4kg)
2.0″
(5cm)
$125.00
Sunnydaze Simply
Square
20.2lb
(9.2kg)
2.25″
(5.7cm)
$149.00
Sunnydaze Façade
du Soleil
28.6lb
(12.9kg)
2″
(5cm)
$199.00
Sunnydaze
2-tier
19lb
(8.6kg)
1.25″ Top
(3.2cm)
2.75″ Bottom
(6.9cm)
$225.00
Things To Remember
When shopping for or building a DIY birdbath, just remember the following things:
the color of the bath doesn't really matter though if you can find a red one and it fits with your garden decor – go for it!
be sure the birdbath you make or choose has a rough surface in the bowl so birds can grip to it.
a bath with a depth of 1-4 inches (2.5-10cm) is ideal.
place your birdbath in a location away from predators.
do not put birdbaths too close to bird feeders.
clean your birdbath regularly (2 to 3 times per week) depending on how many birds are using it.
make sure you place the bath close to bushes, trees, or similar places where birds can hide from predators (not too close though as it will fill with leaf litter).
References
---